Your unflagging support of ADRA's mission is reaching the vulnerable around the world with provision and protection. Who are the vulnerable? They are those who can't shield themselves from harm or exploitation. Most often, they are women and children.
In rural areas of the Philippines, harmful understandings and practices put some women and children at risk.
As a barangay councilor, Mary Jane Enciso cares deeply about making her community a better and safer place. When she first learned about the TOGETHER project, Mary Jane saw it as an incredible opportunity for her community in Barangay Hibago in the municipality of Ocampo in Camarines Sur.
The TOGETHER project, with generous support from Global Affairs Canada, is working with remote and indigenous communities in Cambodia, Kenya, the Philippines, and Uganda to ensure that the most vulnerable people, especially girls and women, can exercise their health-related human rights.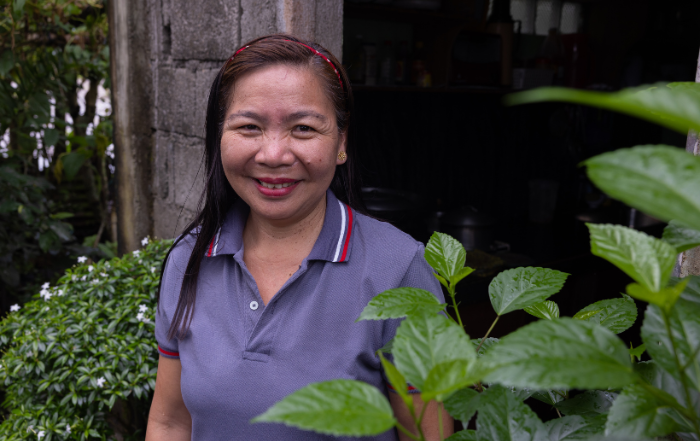 "I was very eager to be a part of the project," Mary Jane says. "I encouraged my neighbours to be a part of the project since its objective is to uplift the situation of every family, especially women and girls.
Of all TOGETHER's messages, what I like best are the ones that address violence against women and children. Things were happening in the barangay, such as harassment of women and the violation of rights. ADRA was the first organization to introduce topics about violence against women and children. We learned more about the law that protects women and children.
After ADRA disseminated this information, the husbands and mothers are careful in disciplining their children. The men are now careful, and they are now well aware of the law protecting women and children from violence. They are now more careful and afraid because they understand if they violate that law, they can be punished.
Since the project came to the barangay, we've learned many things. They're like seeds that are planted, and they will grow. Knowledge is like a seed that will grow in every family. The time will come when this knowledge will be used accordingly. Thank you very much."