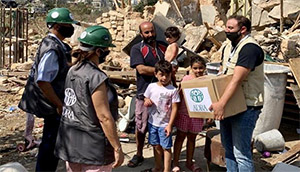 On August 4, a series of explosions ripped through the port of Beirut, Lebanon, leaving 180 dead and more than 6,000 injured. An estimated 300,000 people were left homeless. Whole neighborhoods around the harbour were flattened. Many of the homeless are Syrian refugees who are marginalized and vulnerable. Structural damage to buildings over a much larger area has left schools, clinics and hospitals closed. With no home to return to, displaced people are staying with friends, relatives, or in shelters where physical distancing is not possible. A spike in COVID -19 cases throughout the city is causing alarm and fear. Inflation and price hikes on essential items, including building materials, are making it difficult for people who were already struggling.
Within hours of the blasts, ADRA workers from our local office were at the disaster site, doing needs assessments and providing whatever assistance they could. An urgent appeal went out to the world-wide network of ADRA offices for help. ADRA Canada quickly pledged our support and began fundraising and seeking support from our partner organizations. The response from our supporters has been amazing!
On the ground, ADRA Lebanon assisted first responders with drinking water, equipment, and materials. They mobilized a volunteer force of 40 people to help with removing debris from the affected areas. Then, as the dust settled and regions of the city were assigned to humanitarian and relief organizations in a co-ordinated response, ADRA began delivering food baskets and store vouchers to affected families in their designated neighborhoods. Medical supplies valued at over one million USD are being shipped from ADRA international.
Looking to the weeks ahead, ADRA is hopeful that enough funds will come in to continue the distribution of much-needed food vouchers. One exciting proposal will help families start or rebuild small income-generating businesses, such as bakeries, to help them return to self-sufficiency as soon as possible.
We are very grateful for the kind gifts and prayers, that have enabled us to relieve some of the suffering and pain caused by this crisis in Lebanon. Thank you for your generous support!