Eliana lived in poverty her entire life. Her home is a small, dilapidated house in a poor barrio in South America which she shares with her seven children, aged four through twenty-six, and grandchild.
With no father in the picture, feeding her younger children and grandchild became her responsibility. Her life has been a constant struggle to find work to bring home some food at night. Too often, she went home at the end of the day with nothing and had to break the news to her family that they were, again, going to sleep hungry. The stress of this enormous responsibility spreads across her face as she tells her story. She has laboured in the most adverse conditions to feed her family. On days when she could not find work, she would go by the local marketplace and beg for the scraps the vendors could not sell. She always found this practice shameful and embarrassing.
These days Eliana is no longer able to go out in search of work. She is suffering from a devastating illness that affects her muscles and joints. Even talking is painful for her. Eliana is not sure of the name of the disease. She can't afford to visit a doctor to find out what it is. She only knows that all of her siblings and one of her children suffer from the same thing.
It is now left to Jany, Eliana's 24-year-old daughter, to go out each day and try and find work. Although she works very hard, she makes very little. In the country where they live, civil unrest has caused conditions to become very unstable, and Jany must compete for the most challenging jobs, even though they offer very little pay. Jany hates going home and telling her little brothers she has nothing for them, so she does any work she can find to bring home a little food.
Things have become even direr in recent months. Eliana's oldest daughter and her baby were suffering from malnourishment. They were not sure that the baby would survive. Extremely discouraged, Eliana began to lose hope.
Then, like a miracle, the family heard that ADRA was starting to distribute food in their community! In a project implemented through a partnership of ADRA Canada supporters and the Canadian Foodgrains Bank, families in Eliana's community began receiving rice, beans, lentils, pasta, oats, and other cooking essentials every month! Eliana signed up and was accepted into the project. It was an answer to her prayers!
She says, "From the very bottom of my heart, I thank you very much for all the help you have given me. I thank God for you! I cannot find the right words to express our gratitude! We thank you with our souls! My biggest prayer is that you will be able to continue helping us. There are so many families like ours that are in desperate need right now! May God bless you for your work. Thank you!"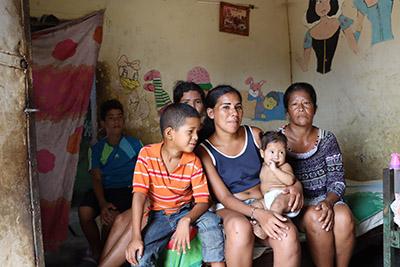 Eliana sits together with her children and her grandchild on one of the two beds the family shares.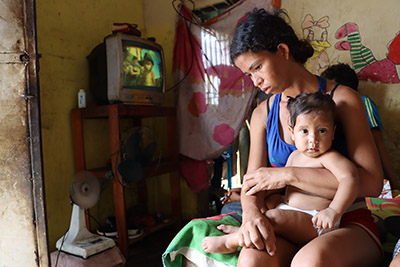 Eliana's oldest daughter now has a baby of her own. Both were suffering from malnutrition until ADRA came to help.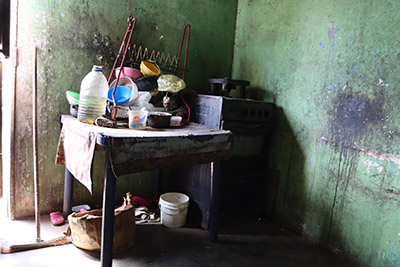 Eliana's kitchen where she has cooked for her family for many years.