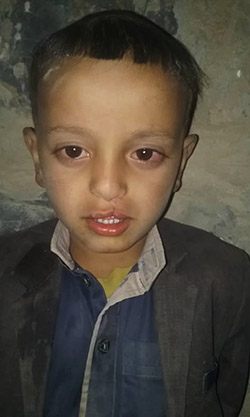 Mohammed lives with his family in a small village in Yemen. The ongoing conflict in the country makes it difficult for his father to find work and the family daily faces challenges of hunger and poverty. Born with a cleft lip and palate, Mohammed has endured a lot of sadness and pain in his short life. As an infant it was difficult for him to latch onto his mother's breast properly and he was not able to get adequate nutrition. Even when he was old enough to start taking solid food, he was not able to eat properly and suffered from malnutrition and stunting.
Little Mohammed's life was filled with misery. His parents watched helplessly as they saw their son's childhood stripped away from him. He lived in shame, fear and sadness. Instead of playing outside with other children, Mohammed spent his life indoors so other children would not make fun of him. When he tried to go to school, the other children laughed at him and teased him because of the way he looked and talked. Because of this, Mohammed lost interest in school.
Mohammed's father was heartbroken because he could not do anything to help his son.
He told us, "Whenever I would look at him and hear his cries, I would be grief stricken. Sometimes, my pain would be so great I would have to leave home, so I would not see or hear his suffering."
His father searched far and wide to find help for Mohammed. He was willing to do what ever it took to help his son have a happier, more normal life. However, poverty always got in his way. The required surgery was more than he could afford, and he was continually turned away from the help that he desperately sought.
When his father, heard news that ADRA was renovating the health facilities in his village and that they were offering medical services at no cost to those in need, he was skeptical. But why not go and learn more? After the clinic opened, he took Mohammed in for a visit. Right away he noticed a warm and welcoming atmosphere. The doctor and health workers would smile at them and took a genuine interest in Mohammed.
After a few visits, Mohammad, was referred to a hospital in Sana'a, the capital city of Yemen. His father was in utter disbelief when he found out that Mohammed's medical expense bills would be covered completely by ADRA.
The entire procedure took only three days from admission to release. Mohammed now has a beautiful new smile! Even though he lives in a country still full of conflict, for the first time he looks to the future with hope. He is no longer crippled by fear, shyness, or embarrassment. He is attending school. He is eating more and is gaining weight, all thanks to the MHNIR project of ADRA.