Get ADRA TV!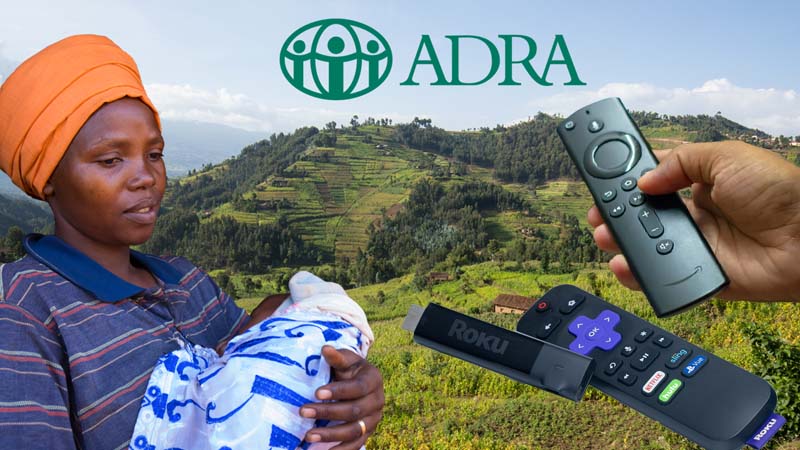 All of our ADRA programs are now available on Amazon Fire TV and Roku. You can watch all of our project updates, video podcasts and sermons directly from your Smart TV. Most TVs sold today come complete with streaming software built-in that allows you to watch almost all of your favourite channels including ADRA TV!
If you have Roku or Amazon Fire TV packaged with your Smart TV, simply log in and search for "ADRA TV" or "ADRA". You may have to set up an account before you start searching. You can also refer to the manual that came with your device for instructions on how to get started with Roku or Amazon Fire. It may be as easy as pressing a button on your remote!
Once you have established an account with either Roku or Amazon Fire, follow the instructions on how to search for and add channels. Use the remote to select the letters, "ADRA TV". You will know that you have found the right channel when you see a channel graphic that looks like the image at the top of this article.
For more on how to do that with Roku, watch this video provided by Roku.
Amazon Fire TV, not to be confused with Amazon Prime, is another streaming software that is pre-installed on many smart TVs. From the Home Screen, look for "Find" and then "Search". Using your remote, select the letters to spell out ADRA TV. Amazon Fire will have the same Channel graphic as the image at the beginning of this article.
Once you have found and selected our channel, it should show up in your favourite channels and be easy to find next time.
If you find spelling out letters with your remote control awkward, you can also log into your account on the Roku or Amazon Fire websites and do your search using your keyboard. Once you have added the channel to your account on line, ADRA TV will show up on your list of favorite channels the next time you turn our your Roku or Amazon Fire streaming service.
If your Smart TV does not have Roku or Amazon Fire pre-installed, you can purchase the extra hardware needed at any electronics store for about $50.00 for either service. There are no monthly fees for the basic service on either platform. With Roku you will also be able to bring in other channels you may enjoy, like Hope and 3ABN.
Welcome to ADRA TV. We hope that you will enjoy it and share it with your friends. Let them know about the amazing work that your church is doing through the ministry of ADRA! We are planning on adding much more content through 2022 so be sure to keep checking back for new stories, podcasts and sermons!