"I am too busy working to join the group!"
As ADRA Cambodia staff were doing surveys and baseline assessments for the launch of the EMBRACE project in the northern region of Cambodia, it was a phrase they heard a lot. It is totally understandable. Many people living in Cambodia depend on the income that they make as a day labourer to support their families. If they do own a small piece of land themselves, they spend most of their time working their own farm to generate as much produce as possible.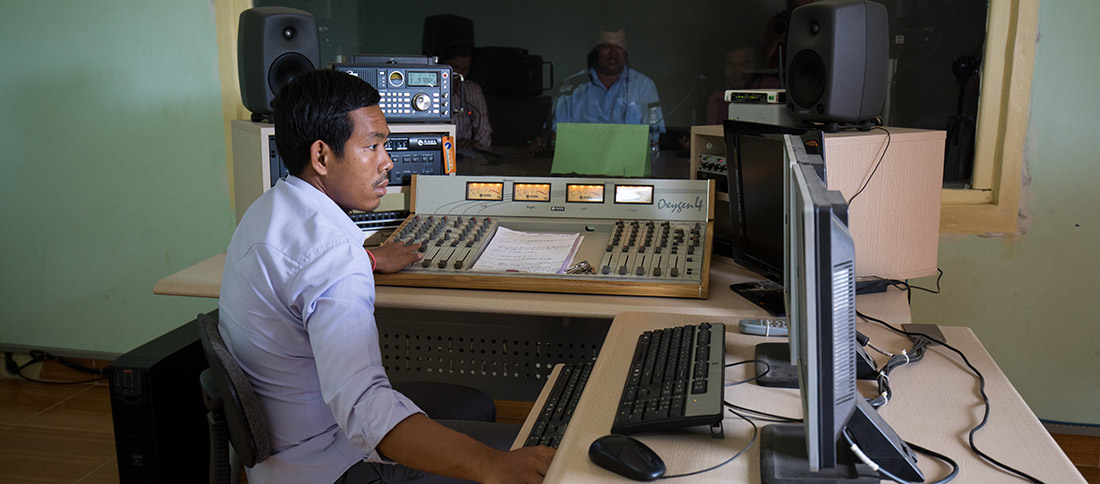 Many people who were invited to join the EMBRACE groups felt that they just would not be able to take the time to attend the meetings. ADRA knew that even those who did join up to be an EMBRACE participant, would most likely miss some important lessons of the program because of their commitment to their farms, especially during planting and harvest seasons.
Thankfully, EMBRACE had a component built right into the project to address this problem. The entire EMBRACE curriculum that would be taught to the village groups would also be taught over the radio, in a weekly live broadcast.
Kaeun Lina, host of the EMBRACE broadcast says,
We are broadcasting the programs from three different radio stations in Preah Vihear and Kampong Thom Provinces. ADRA provides all the target villages in the EMBRACE project with radios so that people who have to miss a session, can take the radio out to the field and listen while they work. We are finding that many people who are not even members of the EMBRACE project, are now listening with interest and becoming part of the discussion!
For each program we invite professionals from the local community to be guests on the program. So far we have had doctors, midwives, government officials, and community leaders on the broadcast.
One of the things that I think helps add local flavour and interest are the short stories that we produce for each program. We pre-record the stories at our little studio back at the ADRA office. We use local volunteers from the community to be the voices of the story. The actors are all members of real EMBRACE groups and have already seen the value of the project in their own lives. They are happy to participate and help get out the message. Following a script written by ADRA staff, we record stories that illustrate a common problem that people are facing in the home or village. This gives us a perfect opportunity to discuss the issue and offer solutions on the day of the live broadcast.
We then open the phone lines so that people from the community can call in with their questions. Some of the topics that we have covered so far are health, nutrition, sanitation, gardening, child development and gender roles. We believe the program is having a positive impact on the community.