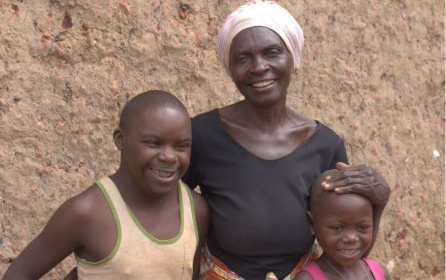 Standing in Agnes' garden left me feeling like Alice in Wonderland for a moment. The kale was taller than I.
Agnes is one of the most energetic people I have ever met. She darts everywhere, eager to show us the fruits—and vegetables—of her labours. At 70, she is bursting with life, as is her garden.
Three years ago, this was not the case. She was ill, likely due to malnourishment. Constantly cold, she would huddle around the fire in her rural Rwandan hut. Both her daughters and her son had passed away from HIV, leaving her—alone and sick—to care for six grandchildren, one of whom is mentally challenged.
She grew bananas, beans and cassava to feed her family, but some of her grandchildren suffered from malnourishment as well. Agnes didn't know how to grow other vegetables and fruits, and she didn't understand their health benefits. She was also limited by lack of water, which had to be fetched by foot from a distant stream.
ADRA began a project in her neighbourhood to help vulnerable families affected by malnourishment. This special project targeted families who had also been affected by HIV. The families selected would be given seeds, tools, rainwater harvesting equipment and training to plant and maintain a vegetable garden.
Agnes was curious but also skeptical. She didn't know if she had the energy to do the work the program required, and she was unsure if the new techniques would work. She decided to give it a try.
The term "kitchen garden" doesn't quite describe what Agnes has grown. Words like "farm" and "small plantation" are more apt. Now she grows eggplant, beets, green pepper, papaya, amaranth, mangoes, tree tomatoes, kale, guava, carrots, pumpkin, corn, passionfruit, cassava, avocados and bananas. She also cultivates acacia trees for use as firewood. The size of her garden is all the more remarkable as she tends to it alone.
She is able to conserve water in her garden by using ollas. These unglazed clay pots are half buried in the garden beds, then filled with water. The water slowly seeps through the clay providing just enough moisture for the plants to flourish. Clay pots—low cost, environmentally friendly and efficient—have been used for centuries.
Agnes was also taught about nutrition and how to keep her grandchildren healthy. Now they are no longer malnourished. Agnes also sells the food her family does not need and uses the money to pay tuition for her grandchildren. The children are now thriving at school.
Some of the money was also used to rebuild her home's foundation, which was visibly crumbling. Her neighbours warned her that the house could tumble down at any moment. Thankfully, it did not.
Agnes smiles broadly at the ADRA staff standing in her garden. She remarks, "I am thankful to God for the young people who went to school to learn so much
to teach me."
Agnes' story is just one of many in this region. We are thankful for the generosity of our supporters and the Canadian government, who together have helped Agnes and so many other families make better lives for themselves.