In the weeks following the wildfires that ravaged the Village of Lytton, B.C. and threatened neighbouring communities, ADRA Canada continues to support the beleaguered province. In early August, the British Columbia Wildfire Service had a dire message: With more than 30 active fires posing a threat to public safety and well over half a million hectares burned, wildfire season in British Columbia was far from over. While firefighters are on the front lines battling the raging fires, ADRA, in partnership with the British Columbia Conference of Seventh-day Adventists, is also on the ground assisting in evacuee housing efforts, managing a warehouse large enough to process a sea of in-kind donations, and establishing the Church's disaster emergency response capacity in the province.
After the Lytton Creek fire destroyed the town of Lytton and two First Nations communities, the Lytton First Nations Emergency Operation Centre (EOC) was moved to Camp Hope to help manage the evacuees being relocated to the camp. Brian Wahl, Youth Director for B.C. Conference was appointed Emergency Management Associate to the EOC. "I connected with the ADRA team to receive guidance on how to work in an emergency. I praise God for ADRA and the incredible support we received," he beamed.
In a discussion about the impacts of the evacuations and the loss of property, Pastor Campbell Page, SDACC Indigenous Ministries Coordinator, noted that, "after a tragedy, what is often needed is for both leaders and members to come together in a space, or more than one space, to express grief, loss, hope, and gratitude for rebuilding." This call for space to express grief, loss, hope, and gratitude is reminiscent of the sentiments expressed in Psalm 137. The psalm is a communal lament, chronicling the Israelites' suffering following the loss of their home. Huddled together by the rivers of Babylon, they sat and wept and remembered. However, like the Israelites of old, there is hope for the Lytton First Nations and other residents. Pastor Page affirmed this in stating, "the Lytton First Nation, like many Indigenous Peoples and Nations in Canada, are resilient, resourceful, and able to respond to and rebuild from tragedies when they strike. When events like the Lytton fire occur, those characteristics go into action through the Nations' leadership and individual members. Such has taken place over the weeks since the fire."
It has been a busy summer for ADRA. While working in B.C., reports of wildfires in Northern Ontario spelled further complications and an additional deployment of ADRA volunteer teams to the Thunder Bay area. Hundreds of active fires, many out of control, meant more First Nations and other remote communities were evacuated.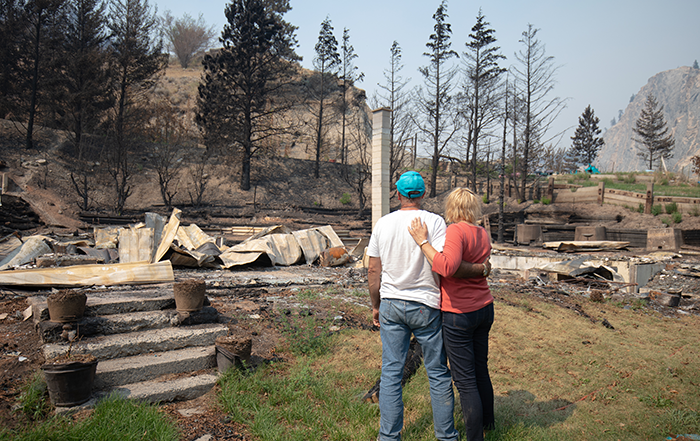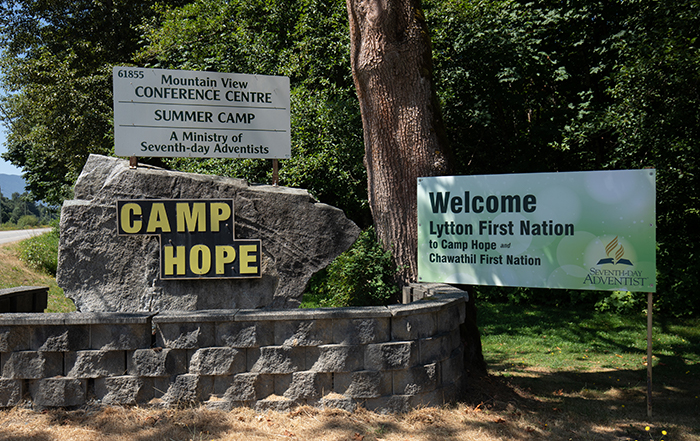 Pr. Daniel Saugh, Canadian Program Manager, continues to be instrumental in ADRA Canada's quick response. "This work," he shared, "is beyond what we can do. But in collaboration with our conferences, churches, and members who are our volunteers, we are meeting the need and providing relief. We have witnessed the hand of God opening doors and granting us His favour. My prayer is that we will shine and show a true picture of the character of God in our humanitarian efforts right here at home."
Back in British Columbia with our experience in in-kind donation management, ADRA Canada drew the attention of the provincial government.
Alain Normand, ADRA Canada's Senior Emergency Manager and Incident Commander for the B.C. Wildfire operation explained that within 17 days of making the first offer to the B.C. government, ADRA was fully operational in Coldstream with a donation management warehouse. "There are three areas in the warehouse, he continued, "receiving and warehousing, assessment and triage, and the sorting and packaging areas. We have been averaging about 20 volunteers a day from the Central Okanagan area. Still, the need is tremendous, and we require many more volunteers. Training and coaching are provided, but we urge people to consider training with ADRA in peacetime in preparation for trouble. We are receiving goods from all over the province, and the warehouse is slowly filling up. If the experience of Fort Mac taught us anything, it is that a 150,000 sq. ft. warehouse will eventually be filled.
Consequently, we will work with shelters, evacuation centres and supporter agencies to provide them with what their clients need to get back to normalcy. Once homes are rebuilt in the final phase of operation, we plan to have an online catalogue of donated furniture that clients will select. On a personal note, I want to affirm that my wife, Nicole, and I have been praying for almost two decades to be able to do this kind of work for the Lord. We aim to show God's love in action, not just words, encouraging everyone to help."
Home – that's what most of us call the places we live. But if "home" is gone, where do you go?
"Mountainview Camp (Camp Hope), says Pr. Cam Page, "was one organization asked to provide that place. The on-the-ground leaders and staff there said, "we have to help. We have to make this home." As cultures and faiths interact, we need to remember we are all Creator's kids. That shared gift of shared humanity is the starting point for everyone who now calls Camp Hope home. It is a call to work together for the good of the Lytton First Nation, no strings attached. We have an opportunity to welcome our new friends from Lytton First Nation in their emergency and build lasting and eternal relationships. As Lytton First Nation members pray to the Creator for all that is needed to heal and recover, may we join them and see how good and faithful our Creator is."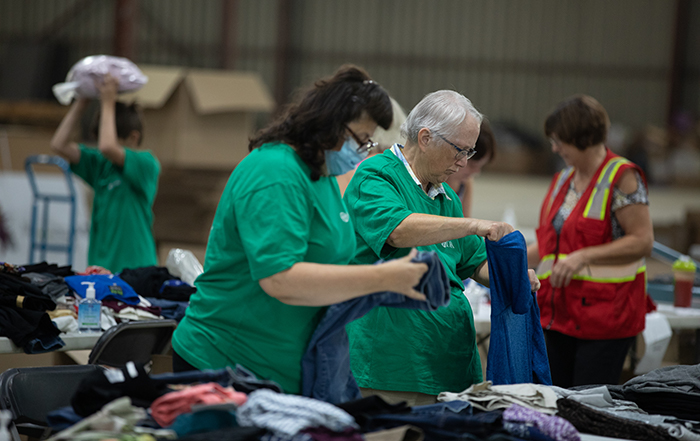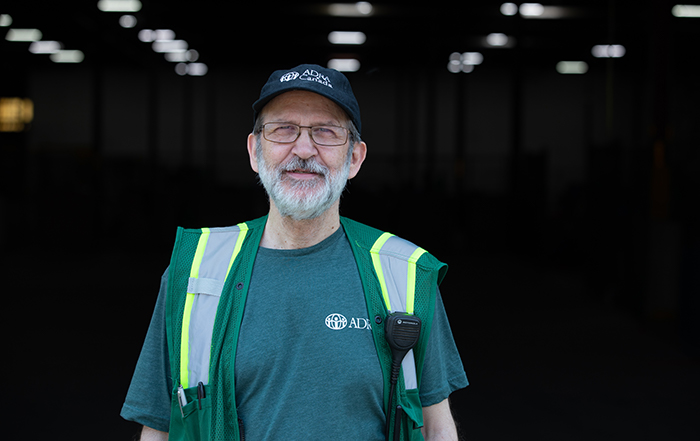 "The greatest human response that reflects the glory of God and the character of Jesus Christ," says Pr. Wesley Torres, President of the British Columbia Conference of Seventh-day Adventists, "is when we allow ourselves to be led by the Holy Spirit. Then, and only then, can we selflessly and genuinely help those around us who are in pain and vulnerable. True Christianity is meeting others at the lowest physical, emotional, and spiritual points in their lives. It is going through personal and/or heartbreaking community experiences to become the hands and feet of Jesus Christ. The BC Conference Administration & Camp Hope Management used that motivation as we saw the needs of the LFN community in B.C. Our priority was to help that hurting community.
When we do that honestly and sincerely," the B.C. Conference president said, smiling, "we not only assist others in overcoming their hopelessness, but ultimately, we point them to the One who can solve all human dilemmas."
In the book Christian Service, Ellen G. White, wrote that "God does not ask us to do in our own strength the work before us. He has provided divine assistance for all the emergencies to which our human resources are unequal." We know that the mission of being the hands and feet of Christ in the world will take more than just a few of us. But happily, we are not in this alone. We have been promised divine assistance, and the word of God cannot fail.