TOGETHER is Strengthening Health Centres
The TOGETHER project, with generous support from Global Affairs Canada, is working with remote and indigenous communities in Cambodia, Kenya, the Philippines, and Uganda to ensure that the most vulnerable people, especially girls and women, can exercise their health-related human rights.
One way TOGETHER is ensuring this is by supporting healthcare providers with the knowledge, skills, and resources they need to deliver quality, inclusive healthcare.
A Nurse's Testimony
Charles Opio is a nurse and facility In-Charge at Alop Health Centre II in rural Uganda. Located six kilometers from the closest trading centre in an area that lacks adequate roads, it serves a large population, including two parishes and six villages that participate in the TOGETHER project. In his words, he shares the meaningful impact TOGETHER is making on local healthcare services:
"Adilang sub-county is one of the hot-spots for teenage pregnancy and early marriages in Agago district due to high cases of school dropouts, gender-based violence, and inadequate infrastructure like roads, schools, and health centres, among others.
"Alop Health Centre has limited services to offer the community, however, since it's the only health facility. We cannot chase away clients like pregnant women, survivors of sexual and gender-based violence (SGBV), among others. Therefore, the examination bed is also currently being used as a delivery bed to ensure mothers don't deliver from home.
"We thank partners like ADRA who came to give a helping hand in providing better healthcare service delivery for our community through mentorship, coaching, and capacity building on SGBV and sexual and reproductive health (SRH) services. ADRA also established and equipped the youth-friendly help centre which has enabled us to offer effective services.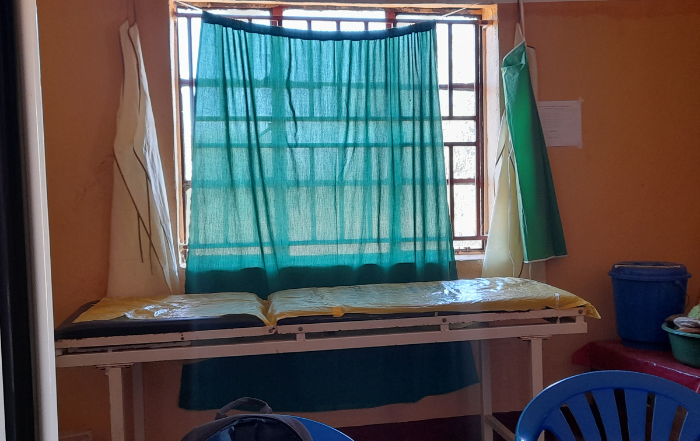 "ADRA and local partner Mildmay trained us and other healthcare providers in SGBV response and SRH service delivery.
"They also gave us a platform to train the Village Health Teams (VHT) who have supported us in many ways, especially in closing the gap of understaffing, which is a big challenge for many health facilities, especially ones like ours.
"The VHTs are supporting us whenever we carry out integrated outreaches for remote and vulnerable areas. They help follow up on SGBV cases to see that they return for further care and treatment. They also refer SGBV cases to the health facilities. They also attend to the youth at the adolescent-friendly help centre.
"Our youth can now come to the health facility to receive different services. We have used the games and sports at the youth-friendly health centre to sensitize them on SRHR, SGBV, and teenage pregnancy.
"With the many challenges we face at this health centre, the burden was reduced by ADRA through the support I've mentioned. With continued support, we hope to be upgraded to a larger facility with more funding support, staff, a maternity ward, and a greater capacity to serve SGBV cases. This would enable us to deliver better health services to our community."