Once she was found to be four months pregnant, Anne* was fired from her factory job in Bangkok. A rape victim who had been trafficked from Laos to Bangkok, Anne did not have many options. After giving birth to a baby girl in a Thai hospital, she and her daughter were deported back to Laos.
With few options in Laos, Anne made the trek back to Thailand on foot. Her daughter, whom she named Blossom*, fell sick with a fever along the way. Once they arrived in Thailand, Blossom was treated at a hospital until she was well again. Anne was admonished by the authorities to return to Laos and apply for a passport before returning to Thailand. Once again, she and her baby were deported.
A few years later, Anne and Blossom made the journey to Thailand a third time. This time they returned legally and they were permitted to stay. Anne soon found a job that could just support her and Blossom. However, she had to wake up at 3 a.m. to leave for work at a butcher's shop and struggled to be present in her young daughter's life. Blossom, at six years old, was left to get herself ready, pocket the small allowance left by her mother, and bike to school.
The social worker who was following Blossom's case knew that it was not good for such a young child to be alone and self-reliant for so much of the day. He suggested she move to the Keep Girls Safe shelter where she could live with other girls, be cared for day and night, and get an education.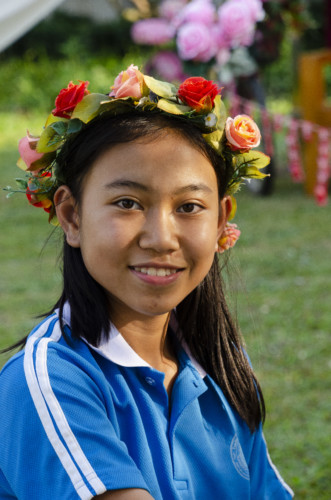 The Keep Girls Safe shelter is a place where vulnerable girls like Blossom can live securely. They are cared for by a team of nurturing adults who ensure their safety, who provide for their daily needs and education, and who teach them important life skills. The Keep Girls Safe shelter becomes a close and loving family to the girls.
Blossom has a quiet demeanour, but she is not timid or shy. As a fifth-grader, she was nominated as the president of the K-6 school, where she is much beloved. Her career as president comes with many important duties. As the school representative, she greets guests, collects holiday donations, and informs students when to stand and bow at assemblies. She is a confident public speaker and a competent leader. She says that she learned these skills while at the Keep Girls Safe shelter.
Blossom is an avid student with the ambitious goal of becoming a lawyer. Her passion and her drive she attributes to her social worker, whom she views as a father. He had once said to her, "If you study hard and concentrate, that is the most precious gift you could give to me."
Blossom proudly boasts a 3.93 overall GPA from her last academic year. She is particularly proud of the 4.0 GPA she achieved in science and history, two courses in which she struggled. Blossom gleefully shares her impeccable grades with her mother during their frequent overnight visits and long holiday breaks.
The girls and staff at the Keep Girls Safe shelter have become like a family for Blossom. She is so grateful her mother and "father" made the choice to move her here. The shelter provides her with stability and endless opportunities to learn.
"If I didn't live at the Keep Girls Safe shelter, I think I would most likely be married or perhaps trafficked. I would not have had a bright future to look forward to."
Your support of ADRA's education projects ensures that children around the world – especially those most vulnerable, such as girls and children caught in conflicts – receive the education they need for a better future. Thank you so much for changing lives. Your impact reaches from today to tomorrow.