After Mary Ann finished high school in the Philippines, she found a job working in a store. She met a man named Dannis who worked at a bakery. After dating for three years they got married. When Mary Ann became pregnant with their first child, they had to make a choice.
"We needed to decide where we would live and raise our children. The cost of living is much higher on the mainland, so we decided to move back here to Sumaoy where my husband grew up and has his family home. Here there would be no rent and we could eat from the sea. It is a very beautiful place to live. It is peaceful, quiet, no pollution, you can breathe fresh air here. But, on the downside, it is difficult to make a living here.
When we first moved here we did not have a boat and so my husband would go out into the ocean at night with a rented canoe, a waterproof flashlight, and spear gun to catch fish. The income from this method of fishing can be good but is not consistent. Some nights he would find an octopus, some lobster or squid and those would be good nights because they sell for a lot. Other nights he might come home with very little, just enough to make a meal for the family. Sometimes he would be empty handed! To help, I planted food crops of cassava and sweet potatoes on a nearby island plot of land that we manage for a cousin.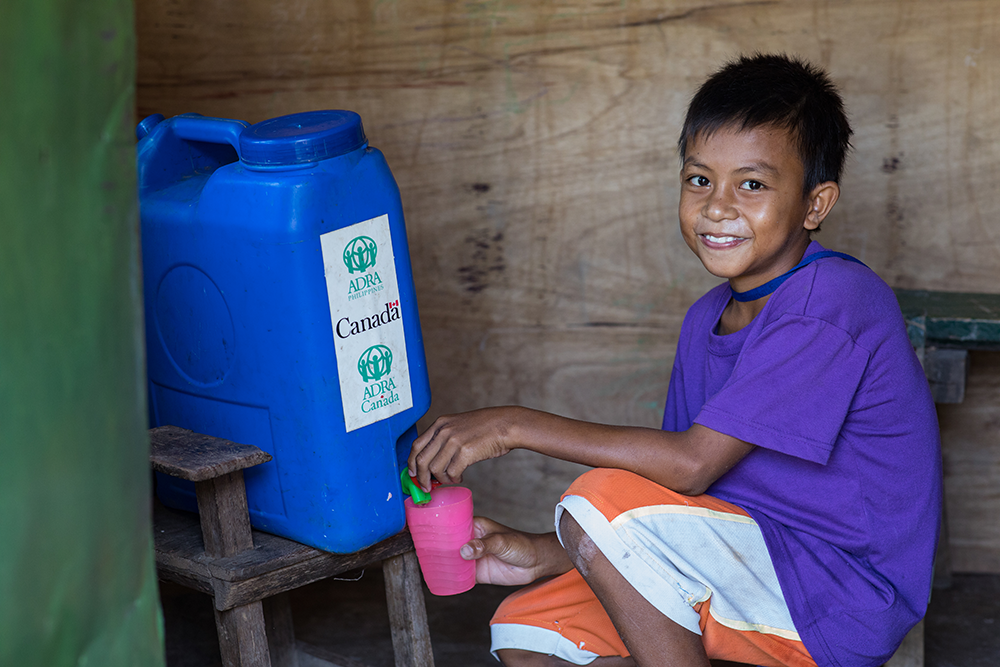 Mary Ann's son enjoying filtered water.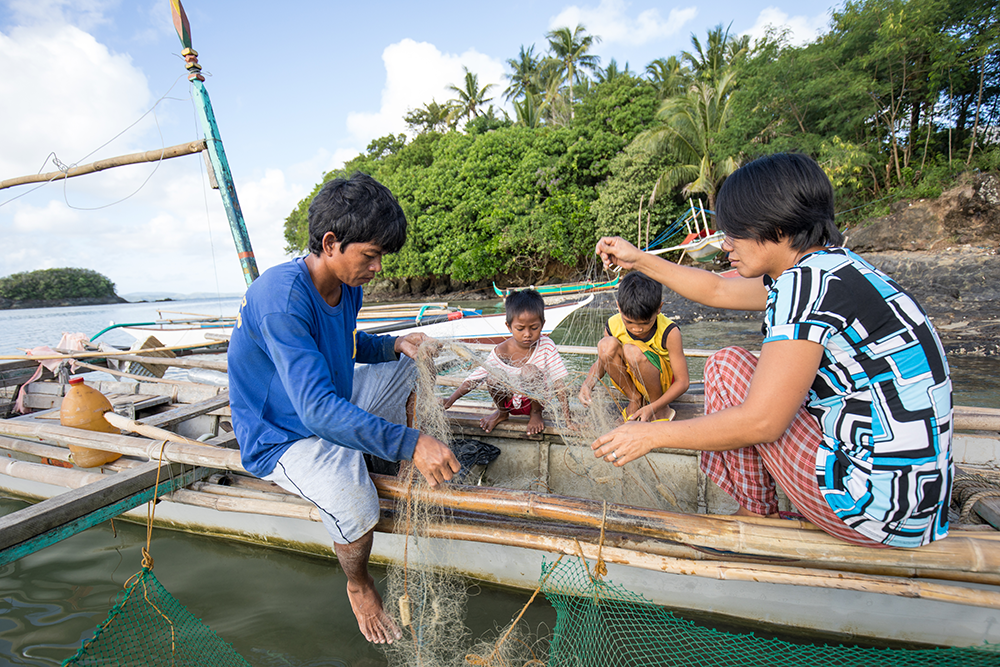 Mary Ann helping Dannis with his fishing nets.
When ADRA first announced that they would be doing training for mothers with small children in our village, I had no second thoughts. I signed up for the training right away.
The ADRA project had a lot of training on nutrition and balanced diets to help your children have a healthy physical development. We have learned not only how to grow vegetables but how to cook and serve them.
The seeds and training that we have received from the ADRA project has been a big help. I am growing eggplant, mung beans, tomatoes, squash, papaya, cassava. I especially found the training in organic permaculture methods to be very helpful. I am harvesting so many vegetables that I am now making a good income from garden! It has grown from a kitchen garden into a market garden. With the profits, I am able to buy things for the home.
One aspect of the ADRA training that has had a big impact in our home was the information we were given on gender equality and the sharing of household roles. We learned that when couples share tasks and responsibilities in the home that it can really help the family and marriage to grow stronger. My husband now helps out with things like washing clothes and I am helping him mend his fishing nets. Working together and sharing tasks really does help bring people closer together. I think we both now have a much better understanding of the roles that each of us used to shoulder on our own. It has made our marriage stronger.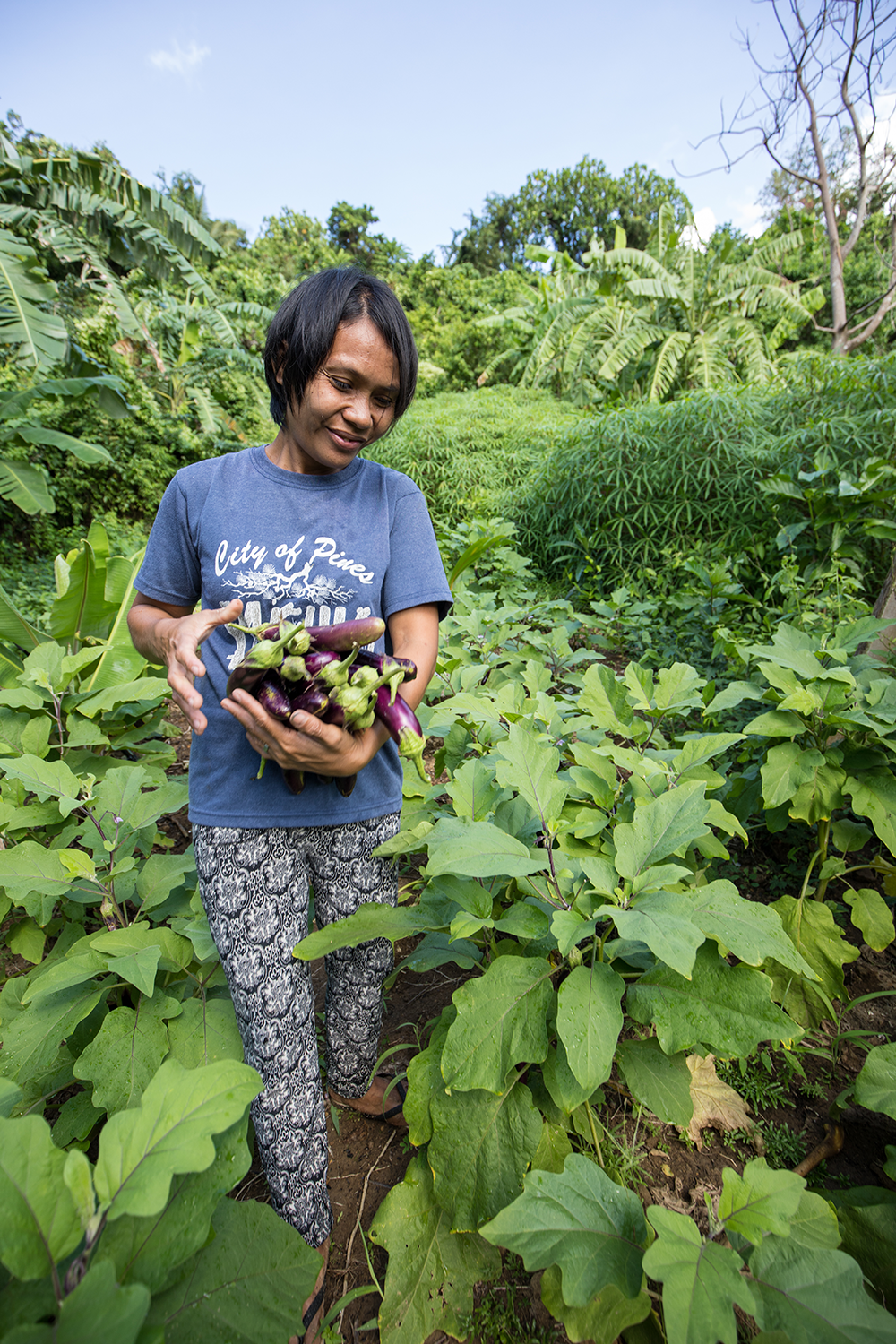 Now that I am pregnant again, I am personally applying all of the EMBRACE messages for expectant mothers. I am eating nutritiously, I am going to all my checkups, taking my supplements and getting my immunizations.
All of my children have been born here in Sumaoy with the help of a traditional birth attendant, but ADRA has taught us that it is much safer to give birth at a birthing clinic or hospital where there are resources available to help in case of complications. So, for this baby, that is what I am going to do. I am planning to go stay at the ADRA "halfway home" about a week before my due date."
The ADRA "halfway home" is a place where expectant mothers can stay with one other person such as a husband, mother, or friend as the delivery date for their baby approaches. The homes are located closer to the hospital delivery rooms so travel is minimal once the expectant mother goes into labour.
Thanks to your support of ADRA's reproductive, maternal, newborn and child health projects, many people like Mary Ann and her family are learning how to improve their nutrition, their income, and their health.