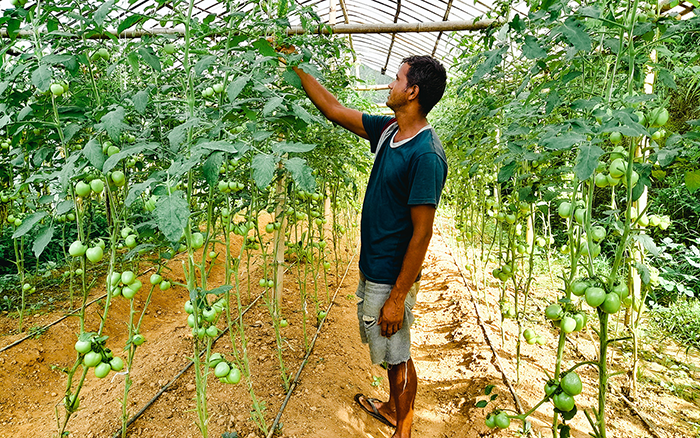 Suraj Khadka is from Nepal, and a project participant in the FOSTER project.
Suraj comes from a family of smallholder farmers. At one time, Suraj used to produce seasonal vegetables like chili, onion and tomato. However, due to the lack of water to be used for irrigation, growing vegetables during the dry season was extremely difficult. At the same time, growing tomatoes during the rainy season, when they fetch high prices, was not feasible because excessive rain would negatively affect both crop growth and attract pests and increase the risk of disease. As a project participant in the FOSTER project, ADRA supplied Suraj with plastic materials, and other local materials, to build a greenhouse. In addition, he installed a drip irrigation system with a 100-litre tank to be able to deliver water directly to the plant's roots, especially during the dry season.
Suraj proudly says "I am able to extend the growing season of vegetables, especially tomato during the rainy season and gourds during winter. I am also able to efficiently use the scarce water through the drip system. This technology has really helped to boost the production even during extreme weather conditions."
In the last three years, Suraj's income from his vegetables has increased by more than 300%. He has already sold his tomatoes worth NPR 50,000 (CAD 530.00) and is hoping to make more from the onions in his field. Suraj is also using a variety of integrated pest management practices including yellow sticky traps, lures and pesticides made from locally available botanicals. It has helped him to significantly reduce the application of chemical inputs. Now that he is using fewer chemicals, he has seen an improvement in the soil's condition as well.
Sustainable Development Goal 13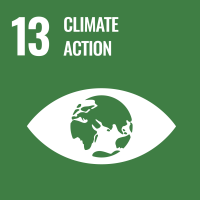 Sustainable Development Goal 13 is about climate action and is one of 17 Sustainable Development Goals established by the United Nations in 2015. The official mission statement of this goal is to "Take urgent action to combat climate change and its impacts". SDG 13 has targets which are to be achieved by 2030.
The FOSTER Project
After the devastating earthquake in Nepal in 2015, ADRA helped people living in rural areas of Nepal recover with the FOSTER project. In a joint project funded by ADRA Canada and the Canadian Foodgrains Bank, ADRA Nepal worked with farmers to teach them how to be successful at goat raising and market gardening. Through these simple methods, ADRA helped people develop new sources of income to help support their families.