Mongolia, formerly part of the Soviet Union, was economically devastated when communism fell. Geographically, Mongolia is harshly situated—the vast but landlocked country is bordered with mountains to the north and west and the Gobi Desert to the south. Although Mongolia is called "The Land of Blue Sky," thanks to over 200 days of sunshine each year, the winters are long and harsh, the summers short and dry, and the soil rocky. Some areas are considered to be unsuitable for agriculture.
That is, until ADRA brought the MEAL project to the Ulanbaatar region and planted the seeds of knowledge that Mongolians needed to lift themselves up and out of financial insecurity and hunger.
MEAL is a nutrition and agricultural training program that teaches participants how to grow their own food, improve their health, and generate income.
After the fall of the Soviet Union, each Mongolian became entitled to a small plot of land called a hasha. To claim it, they needed only to find a free piece of land and register it. Many Mongolians migrated to the region surrounding Ulanbataar, the capital city, because they believed there were more opportunities there. This proved untrue for many. Now, nearly half of the country's three million citizens live in the Ulanbataar region. This is where ADRA has focused its efforts for the MEAL program.
ADRA began by going door to door to determine whose needs were greatest. MEAL participants were put into groups of about 15 individuals located near each other. These were called Self Help Groups (SHGs). These SHGs were then assigned an agronomist and a trained resource volunteer who taught participants to grow and preserve food, build greenhouses and root cellars, and work together for mutual benefit. Since October 2012, 20 SGHs were created and more than 1,100 households and over 4,000 people have been helped directly. But MEAL's reach extends much farther, as participants have shared what they have learned with their neighbours, families, and friends and more and more Mongolians are helping and supporting each other to achieve financial and food security.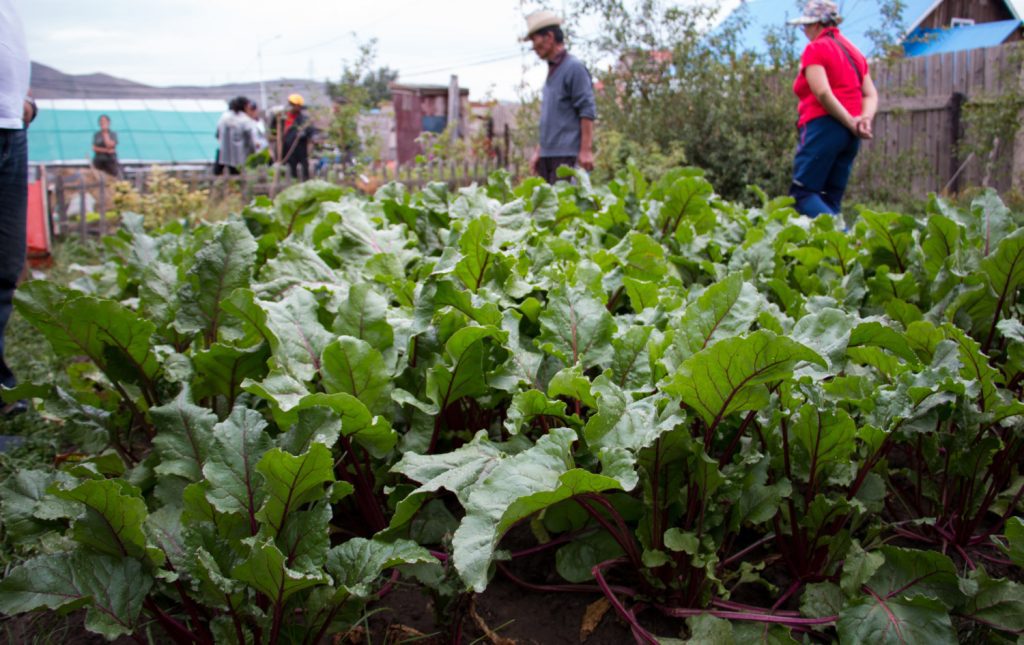 This happens via the joint efforts of ADRA and the SHGs. ADRA provides training, teaching participants about planting, harvesting, and irrigation; cooking, pickling, and preserving food; nutrition; and later, business and other skills. ADRA also provides basic supplies like seeds and materials to construct greenhouses, cellars, and irrigation systems. Participants provide the labour to construct and maintain the structures and gardens, and to operate their SHGs day to day.
In a place where people once believed nothing could grow, Mongolians are growing carrots, tomatoes, zucchini, lettuce, spinach, and berries. Every year, the yields increase. As their confidence and knowledge grows, the SHGs experiment with new fruits and vegetables. Solar greenhouses have extended the growing season from three to five months, and root cellars are allowing people to preserve food through the harsh winters.
Beyond these huge strides in agriculture, the SHGs are selling excess food and earning incomes, which are increasing with each passing year. Many have also branched out and begun selling handmade products in the off season. ADRA has provided additional training to help the SHGs with these business ventures. Members sew traditional Mongolian clothing, hats, shoes, blankets, purses, wall décor, and so on. They buy the materials, supplies, and tools using their SHG savings and work in facilities provided by the government. They sell through personal, familial, and social networks currently but have set their sights on expanding.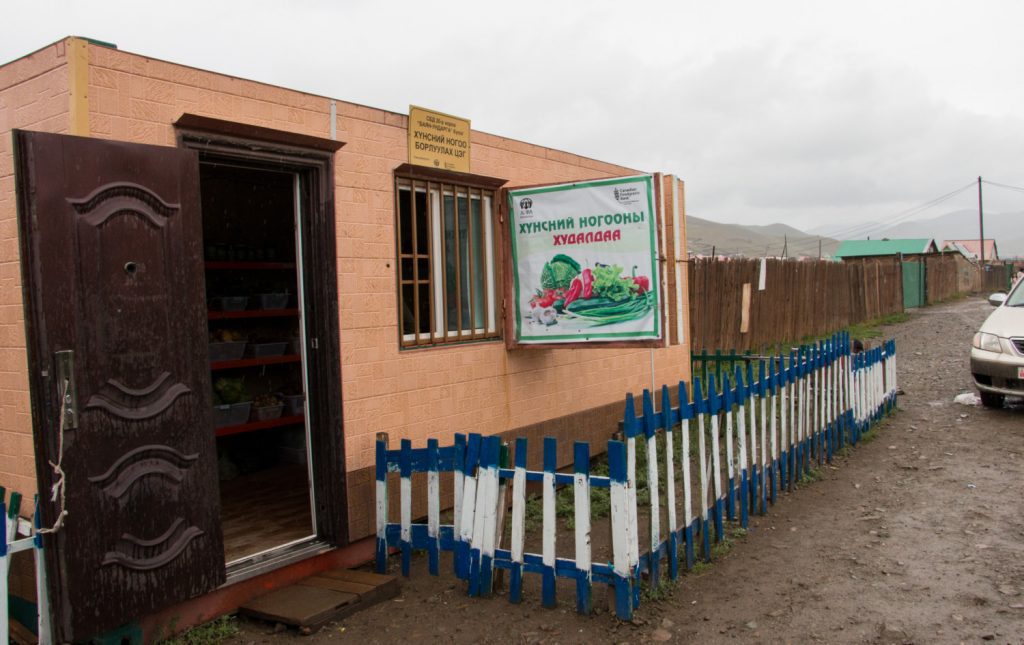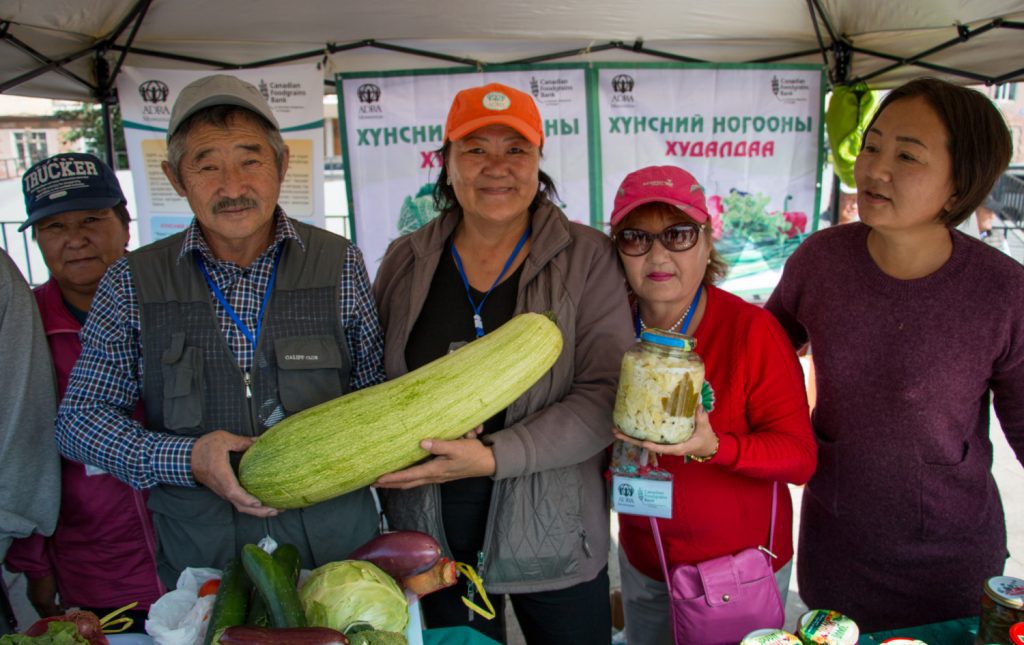 Most of the SHGs have even been able to start their own credit and loan programs. While ADRA provided some business and financial training to assist them, the SHGs have done this on their own initiative. Participants invested part of their profits into a group savings account, granting members access to financing at low or no interest in order to pursue other business ventures. They plan to eventually register as cooperatives that can open up more business and financial opportunities. One participant says, "Most of us never planted gardens before [but now] we're united as a group, learning together and now [able to] take on business opportunities."
Namshir, the "father" of one SHG, says, "Through ADRA, I've learned complex knowledge. Gardening, planning, financials, business. Our knowledge is extended. Since I joined the ADRA project, my family income has increased, enough to get us through the whole year now. I built a greenhouse and root cellar and give support to others. We work as a team."
Those who have participated in the MEAL project are refreshed and energized and ready to move forward into a more hopeful, stable future. A member of another SHG says, "Since we are involved in this project we're more active, we feel more purposeful. We can solve many things as a group, we give hands to support each other. This project has made our lives completely different."
Across the 20 SHGs now in existence, several sentiments are echoed: Mongolians are able to support their families in ways they never considered before; they can learn from each other and achieve much as a team; they have learned enough to keep going forward and are motivated to do so; but mostly, they have become united with one another. They have become a family who can now look to the future with hope.
"You can see the success of the project. Thank you for giving us an opportunity to grow. You gave us a chance. Thanks, ADRA for giving attention to our nation," summed up one participant.