Living in a remote region of the Philippines, Cristy is 37 years old and the mother of four children. She starts her morning routine at 5:00 am. She cooks, cleans, does household chores, gets her older children to school, goes to the market, manages her fruit stand, all while looking after her youngest child, a two year old girl named Lucil.
Lucil was not in the best of health. She was not growing well and Cristy was concerned. Cristy tells the story of how her baby girl has dramatically improved over the last few months, thanks to the MASIGLAHI project of ADRA.
"One of the ADRA health volunteers came to our house and invited us to attend some meetings organized by ADRA. They told us that families with small children would be eligible to enter their babies into a nutritional feeding program…my husband encouraged me to put Lucil into the feeding program, so I joined."
Her husband's encouragement was not misplaced. After only a short time in the feeding program, Cristy noticed a big improvement in the health of her daughter.
"After just two weeks of feeding my child with additional high-calorie foods, she became more energetic and her appetite increased. My daughter's height and weight were assessed during the first and last day of the session. To my delight, Lucil gained 600 grams just after 12 days! I was really thankful and happy."
Positive Deviance (PD) Hearth, is an approach that ADRA is using in the Philippines that addresses the problem of malnutrition in young children by using local resources. In the meetings that the parents attend, caregivers learn about new health practices and nutritional foods that make a big difference in the health of the whole family.
Cristy said, "The sessions we attended taught us how to use locally grown foods that are high in calories, which help our children gain weight in a healthy way. The training also helped us improve our knowledge and skills in feeding, child care, child development, hygiene, and a healthy lifestyle."
Once Cristy realized the immense value of the ADRA program for the health of her family, she never missed a session. Even with her busy schedule, she made time to attend and learn everything that she could. Cristy has learned new ways to prepare and serve nutritious meals for her family. Best of all, as all the ingredients were locally grown, the new diet was affordable, even on their tight budget. Her favorite is the calamansi juice made with sweet potato tops and citrus fruit, because the color of the juice turns from green to pink. Her children like this a lot!
Lucil has now graduated from the 90-day PD Hearth program and has steadily gained weight. ADRA's MASIGLAHI project has helped Cristy and other mothers in her village, reach a new level of healthful living. Cristy says, "the health of my children has now become one of the greatest investments that my husband and I are going to make for our family's future."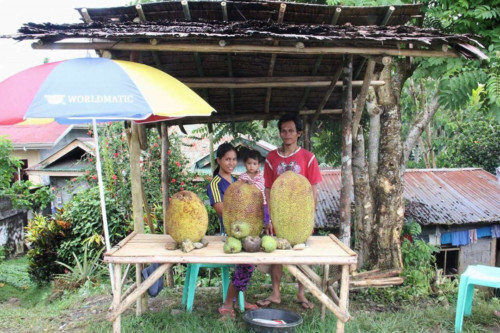 Cristy at her fruit stand with her husband and Lucil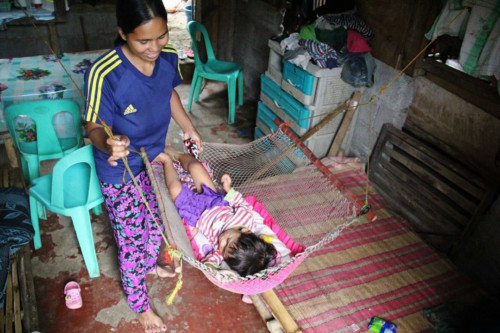 Cristy at home with her daughter Lucil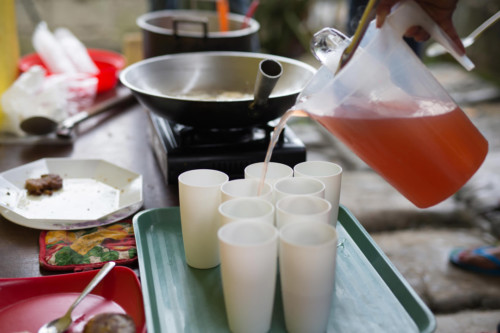 Calamansi Juice
Adapted from ADRA Philippines Facebook site, with permission.