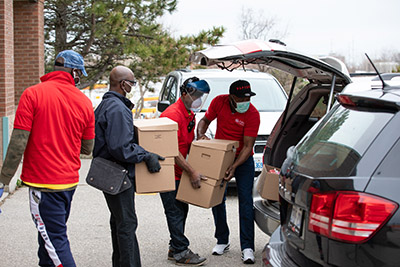 The Philadelphia Seventh-day Adventist Church, located in Scarborough, Ontario, has been operating a weekly food bank for the last five years. They started serving their community in this way shortly after they moved to their new location.
The facility that they purchased was at one time a vehicle testing center and the garage area proved to be an excellent room to set up a very efficient food bank operation. Deliveries from food providers were easy and once each Sunday, a team of about 30 volunteers would arrive at the church at noon, sort the food, and arrange it in the large area. At 2:00 pm, the doors would open and the clients would come in, walk around and pick up what they needed from the tables, much as they would at a supermarket. By 3:30 pm they would be finished, having served between 65-85 people in need.
With COVID-19, everything has changed. Many of the regular volunteers were seniors who are at higher risk from the virus. They have been asked to stay at home and new volunteers have been recruited. Clients can no longer come in and sort through the food themselves looking for what they need, perhaps handling items and then putting them back. Everything is now pre-packed into boxes. Volunteers come in two or three days in advance of the distribution to sort and pack.
With many people in their community being laid off from their jobs, they have seen a real increase in the number of people coming in seeking assistance. The people are telling the food bank staff that even with the help they are getting from the government, it is not enough and they are having a difficult time feeding their families.
Prior to COVID-19 the Philadelphia food bank did not do any deliveries. Everyone had to visit the bank to collect the food they needed. Now, as many of their clients are also in high-risk groups and are fearful of using public transport to travel to the bank, the church has started to do some deliveries. Many church members, as well as pastors, have come forward to volunteer for this ministry of home delivery.
ADRA Canada and the Seventh-day Adventist Church in Canada have partnered to offer assistance to churches who are serving their communities during this time of global emergency. ADRA put out a call for grant proposals and 27 churches and organizations across Canada have been awarded funds to help with their ministries.
The Philadelphia church was awarded $6,500 for personal care kits.
Natoya Anderson, acting coordinator for the Philadelphia Church Food Bank, told us what it was like, purchasing the items for the personal care kits. She said,
"Everything that went into the ADRA Personal Care Kits were the hard-to-get items. Things like shampoo, dishwashing soap, laundry soap, toilet paper, hand towels, tissue paper, garbage bags, Lysol spray, and anti-bacterial soap, are hard to find in any quantity these days. Many stores had limits on how many you could check out per person or family. We had to call up church members to help us do the shopping to get enough to make up the kits. It pretty much took up a whole week. But it was worth it. These are things that people really need right now and are items that will help stop the community spread.
We are now serving about twice as many people per week as what we normally do. Some of the other food banks have closed their doors and we have had to increase our capacity to receive the clients of these closed facilities. It has been a lot of hard work, but it has been good. I actually love doing this work! Isolating at home, the coronavirus got me down, but coming here to work for others, the coronavirus doesn't get me. I am full of a sense of happiness! Always giving, always giving!
I would like to say, how appreciative we are of the support that we have received from ADRA."
Senior Pastor, Harold Johnson, says:
"The food bank is more than just reaching out to help people with food, it is ministry for us. People often comment how friendly the people are, here at this food bank. They know us by name, they sincerely care about how we are doing!"
The road ahead seems long and people are suffering with the loss of income. ADRA Canada is thankful for the prayers and kind gifts of our supporters that make this type of ministry possible.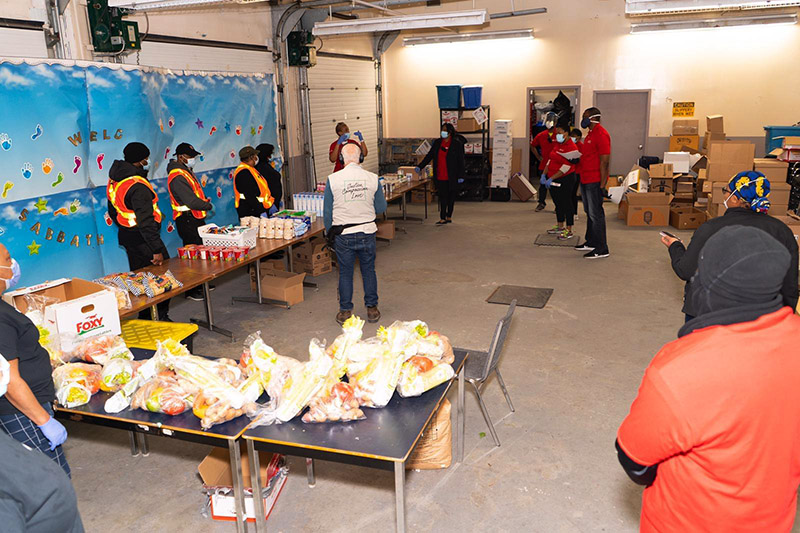 The large repurposed garage area of the Philadelphia Church makes a perfect place for a food bank ministry!
A volunteer sorts veggies to be included in the pre-packed food boxes that must now be prepared because of COVID-19.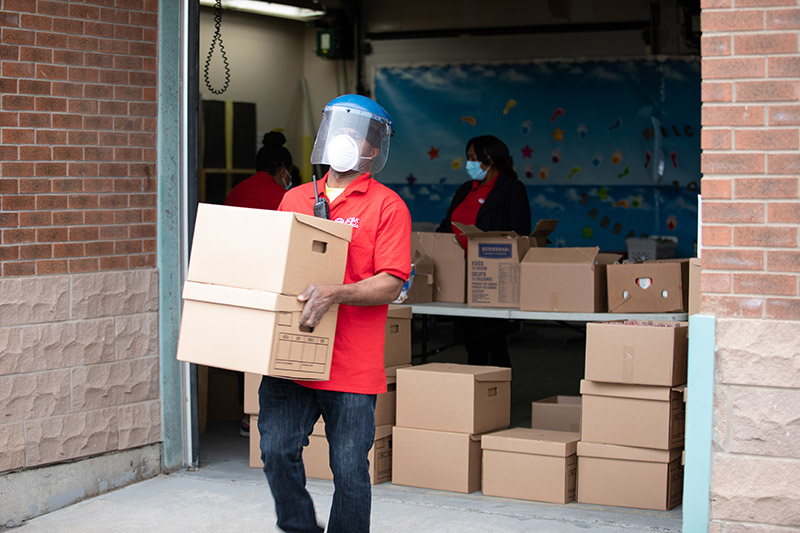 A volunteer loads boxes to take out to cars ready for some home deliveries of food to seniors.