Your support for ADRA's National programs has been making a real difference in the lives of Canadians in need. Natasha Lewis and her husband Jason live in Moncton, New Brunswick, with their three children. Both Natasha and Jason have received help in combatting past issues with substance abuse and addiction. While they have both been living abstinent lifestyles for three years now, other health concerns like injuries and impending surgeries have kept them from being able to work consistently.
"I think all I really wish for my children is for them to be cared for, loved and healthy," Natasha says. "I'm living one day at the time right now, so covering our basic needs and necessities is what I strive for. I hope I may finally go back to work at some point. Providing for my family is very important for me."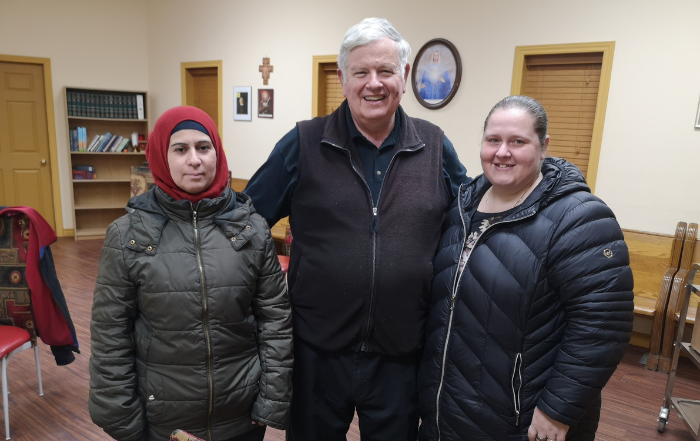 Through ADRA, you have fiscally supported the Ray of Hope Soup Kitchen in Moncton, New Brunswick. Natasha and Jason have been able to find nutritious, vegetable-filled meals for themselves and their children during a very difficult time in their lives. Natasha shared her feelings of gratitude with us in her own words:
"Now that I know of ADRA Canada's support for the Ray of Hope initiative, I am extremely grateful. My social assistance income is not sufficient to cover all our needs right now. Groceries are painfully becoming more and more expensive, and I don't know how we could make it through the month without Ray of Hope. Greg (the manager) is now that familiar face that will check on me and help me if I need certain staple items."
"There is just no other place to go. When all the other options have been exhausted, I can get some of the food my family needs here. It is a crisis we are living in. The Ray of Hope is contributing to the community's well-being as a whole, and so is ADRA by supporting them. There is absolutely no reason anybody should have to go hungry. People need to maintain a sense of dignity to better their own situation. ADRA's helping to do just that by their continuous support to the Ray of Hope."
Recently, Natasha introduced her friend Almaz Khalil – a recent immigrant from Turkey whose husband passed away shortly after moving – to the Ray of Hope Soup Kitchen. A mother of four, Almaz is in similarly difficult circumstances. By supporting ADRA, you have empowered Natasha to extend a hand of compassion to one of her own neighbours in need.