In October 2020, Cambodia experienced heavy rainfall across much of the country. Soon, hundreds of thousands of people in 14 provinces battled with raging flash floods. The worst-hit provinces included Banteay Meanchey, Pursat, Battambang, and Kampong Thom, and the southwestern suburb of Phnom Penh. Over 40,000 people were forced to leave their homes, and 43 people lost their lives. Houses, roads, health centres, over 600 schools, and other critical infrastructure were damaged. Floodwaters inundated thousands of hectares of agricultural land.
In a combined emergency response with our partners, ADRA in Canada provided emergency food and cash vouchers so that people can continue to provide for their families with dignity. Families also received 100 kg of rice seed to replant areas where the floods had destroyed crops.
Chroch is one of the people who received assistance from ADRA. Chroch is a 61-year-old widow living in one of the heavily affected areas in Banteay Meanchey province. When her husband passed away in 2000, she worked hard to raise her six children. Now her children are grown and married. Some have migrated to Thailand for work; others now live far from home. Only her youngest lives near, to help her in case of ill health.
In the October floods, Chroch's one-hectare rice field and all her vegetables around her house were destroyed. The rice had been almost ready to harvest when the flooding hit. Chroch and her neighbours were devastated. They did not know how they would find food.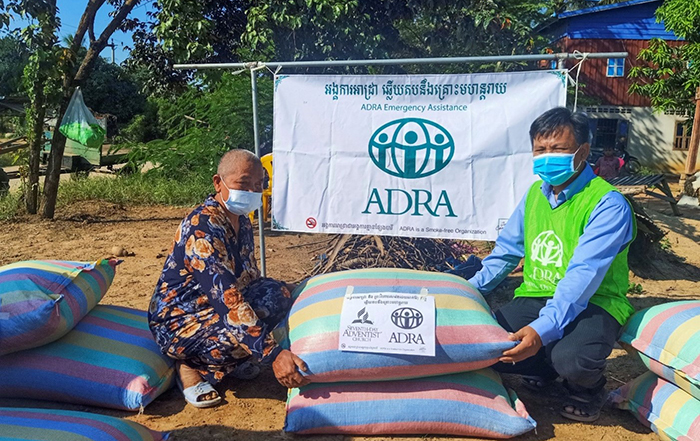 Immediately after the floods, ADRA came to Chroch's village and distributed rice seeds. Chroch was one of the families to receive a 100kg bag of rice seeds to ensure quick replanting. While she may not see the results immediately, Chroch knows that she does not have to worry about food.
Thanks to our faithful supporters, ADRA in Canada continues to build resilience in local farmers in Cambodia.