Naw Eh Mwee is a member of the Karen ethnic group, living in the Kayin State (formerly Karen State) of Myanmar. Like many young people in Kayin State, Naw Eh Mwee went to Thailand to find work so that she could send money home to support her family. While it is not very safe for a young girl to be an undocumented worker in Thailand, many Karen girls still go out of financial necessity. Apart from safety issues, this problem also strips rural villages of the talent and productivity of their young people.
It was while she was working in Thailand that Naw Eh Mwee met a young Karen man by the name of Saw Ci. They fell in love and returned to her home village to be married. When they had a baby together, they decided that it would be better for them to raise their little girl in Myanmar, where they had the support of grandparents, than try and go back to Thailand. However, because of the lack of work in the region, Saw Ci has had to go to Thailand several times to make money to feed the family, but always returns after a few months because he misses his family so much! They have been looking for ways that they can manage to stay together and still raise a family in Myanmar. Their little girl is now five.
About a year ago, ADRA began working in their village with the EMBRACE project. Naw Eh Mwee and Saw Ci both joined the EMBRACE group and the things that they have learned about health, nutrition, and child development have really changed their lives. One of the things that EMBRACE has taught them is helping to make it easier for Saw Ci to remain in Myanmar with his family.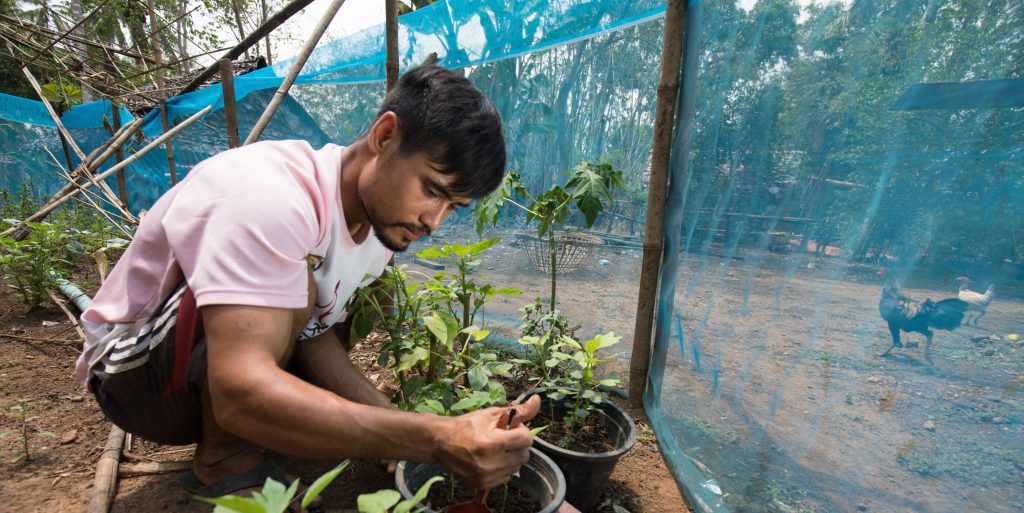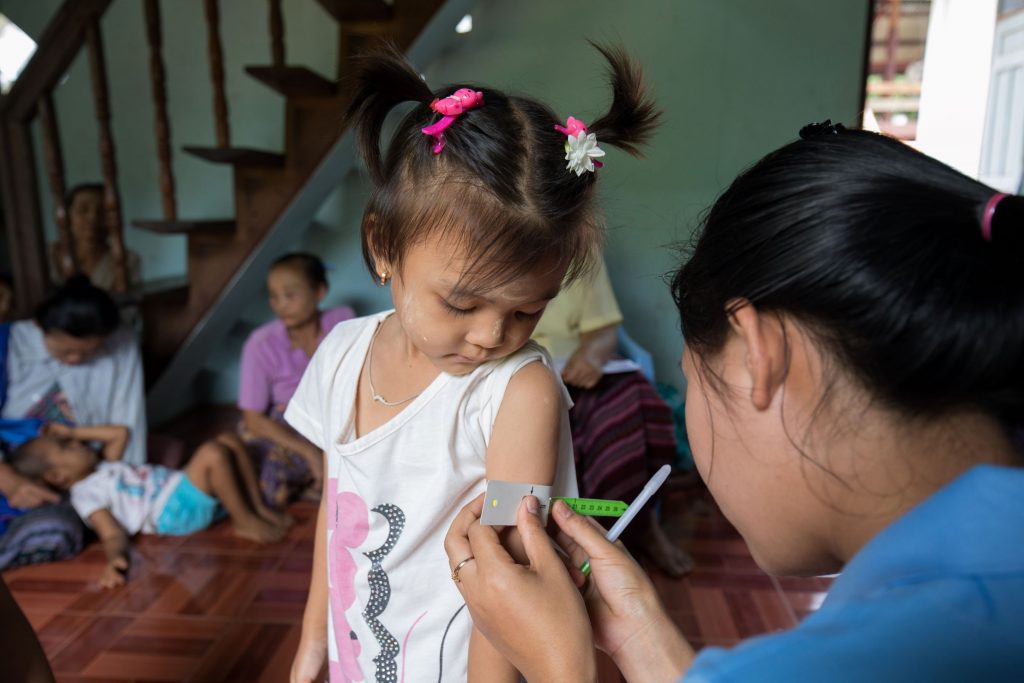 Naw Eh Mwee says,
The ADRA EMBRACE program that we have joined has had a component that has taught us many things about how to grow a successful garden. We have learned how to prepare the soil and how to plant the seeds in a nursery first before setting out in the garden. We have learned when is the best time to plant for each kind of vegetable, which ones take a long time to mature and which ones we can keep planting every two weeks for a continual harvest.
The training program also taught us what kind of nutrition we can get from each kind of plant. What plants provide iron, what plants provide various vitamins. This way we can plan out our meals to get a good balance of the right kinds of food every day. We have learned the kinds of vegetables that are important for pregnant women and small children to get every day.

Before the ADRA training, we would go to the jungle to collect plants that we know are edible. During the dry season, it is more difficult to harvest food from the jungle. Usually, we would not eat much in the way of vegetables during the summer. We would eat mostly meat and fish during this time. Now that we have our own kitchen garden we are eating fresh organic vegetables every day!

Now that we have been on the new diet for about 6 months we have seen a real improvement. My little girl has gained weight, she is more active and she no longer gets the skin rashes that she used to.

Saw Ci says,
I have learned about new kinds of vegetables such as carrots, cauliflower, tomatoes, and spinach. The EMBRACE training taught us how to do soil testing and we learned how to do composting and make our own fertilizer. I love eating fresh vegetables right from the garden. I especially like the fact that I know that they have been grown without the use of pesticides or chemical fertilizers. The vegetables sold at the market are expensive. We don't know where they have been grown. They are wilted and soft. We are now growing all of our own food.
The EMBRACE project is having a major positive impact on the lives of families in the Kayin State of Myanmar. One positive outcome is that more families are choosing to stay in the village, rather than leave for Thailand.