When the pandemic began to spread in March 2020, ADRA Canada, with help from the SDACC, NAD ACS, and ADRA International, leapt into action. Partnering with churches, affiliated church entities, organizations, and groups, we provided resources to fund 33 projects nationally.
The Really Living Seventh-day Adventist community located in Hamilton, Ontario was one such local partner.
"I want to thank ADRA for making funds available for churches to reach out to communities in a disinterested fashion," said Pr. Douville. "This is what we're about at Really Living."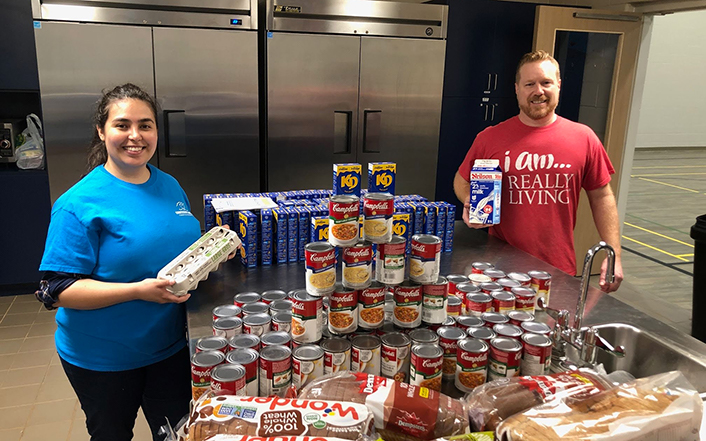 A bustling church community, Really Living hosts between 8-12 outreach ministries each year.
In December 2019, Pr. Douville was assigned to sit with a visiting family. "We always have lots of members willing to be assigned to sit with visitors. My assignment was a Muslim family from Iraq. I remember admiring the family dynamics, the affection that was evident between the father and his children."
But with COVID-19, this Christ-modelled ministry centre had to suspend all outreach programs. "Members were more than a little discouraged," says Tina Douville. "As the sign says, Really Living is more than just a building where a church meets. It's a hub for public events and community services serving the Hamilton area."
"And this is where "Bags of Hope" came into being," chimed Pr. Douville. "We used the digital board, an email list and phone calls to announce that we were offering groceries. Benton Lowe, our Community Liaison, did an excellent job ensuring that as many people as possible would benefit from ADRA's support."
One day, while delivering groceries to needy families, Pr. Douville met the same Iraqi family he had sat with at church the previous year.
"It was amazing to see them! The father answered the door and recognized me right away. It was truly a blessing to see the children so happy to see me, their faces pressed against the windows," Pr. Douville beamed.
As the Christmas holidays rolled around, Catherine Poplawski, the Really Living Gift Club coordinator, began her calls to community families. But tragedy had struck. In early November 2020, their father had taken a trip to Libya to visit his brother, who had cancer. Tragically, he contracted COVID-19 and was hospitalized. Two weeks later, he died, leaving behind a wife with limited English language skills and five children, ages eight – eighteen.
Members of Really Living and community members familiar with the work they do all volunteered to help. The church donated time and money to help the oldest son and daughter finish basement renovations the father had begun. This also gave Pr. Douville the opportunity to engage another community member to donate and install the flooring as well as leave Ma'ab, the eldest son, with a book to help him see the love of God.
"It is always a privilege to be the hands and feet of Christ. But more than that, it is my hope that the experience of a Christian entity helping a Muslim family will resonate within their hearts for many years to come."
The Really Living "Bags of Hope" project served 863 vulnerable Hamiltonians and engaged 24 volunteers between April and May 2020. They continue to partner with local entites to meet needs in Hamilton, Ontario.