During the month of May, Ontario and Quebec experienced a lot of flooding from spring runoff and excessive rain. ADRA was put to the test and volunteers went into action! One community that requested help just happened to be a few kilometres from ADRA's office in Newcastle, ON and members of our staff also sprang into action.
As a member of the NGO alliance of Ontario, ADRA was notified when a community nestled along the shoreline of Lake Ontario in Clarington found themselves and their homes in danger from the high lake levels. In 2017 their homes were flooded because of the unusually high level of Lake Ontario and it seemed that they were looking at a repeat event. Last time they struggled to make sandbags as the water levels quickly encroached upon their homes. This time they wanted to get out ahead of the crisis by getting sandbags made and in place before the high levels peaked. For the last three weeks, the residents have been working hard to be prepared, but many of them are retired and sandbagging is difficult work.
The Clarington Fire Chief put out a request to local volunteer agencies to come and give the community a hand and ADRA was one of the groups that responded. For the last two weekends ADRA staff, along with their friends, family, and other volunteers lifted their hands to help a community in need. Anita M. Odondi, our Emergency Program Director was there, filling bags of sand herself. She says, "It was such a joy to be able to help people right next door to where we live. Usually, we need to get on a plane and travel for 12 hours to help people in crisis, but here we were able to help at home in Canada. It was quite a different experience for me. We didn't need to provide any financial assistance or emergency food and water. In fact, it was the residents who were feeding us! It felt really great and satisfying to work together as a local team and family members, knowing that you were doing something to help people in their time of need. The people were so grateful. They thanked us over and over."
Sonja Fraser, our Stewardship Coordinator recruited a number of young people from her church to come out and do the sandbagging on Sabbath morning the first weekend. She says that her friends really enjoyed serving others in this way. "They told me that it felt really good to actually do good on the Sabbath, to be able to go out and practice what we preach. They definitely want to come and serve like that again."
Steve Matthews, the Executive Director for ADRA in Canada was there, working alongside his staff. He reported that it was very meaningful to him personally to have the opportunity to respond to an emergency situation in such a direct and "hands-on" way. "Usually we are working behind the scenes from our office in Newcastle, on a crisis that may be happening a half a world away. But this was real and personal, helping our neighbours right in our own community. It was great! I brought Liam, my 13-year-old son, and he really enjoyed the work as well. He told me that he would definitely do it again!"
The following Sabbath Steve got up and made an appeal in the local Bowmanville Seventh-day Adventist church for church members to come out and help and the following day 17 volunteers from the church showed up at the sandbagging site!
The feeling that you get from helping others is unlike any other feeling that you can have and we are looking for people who would like to also experience the joy of service. We encourage you to attend a training session in a center near you. For more information, click here.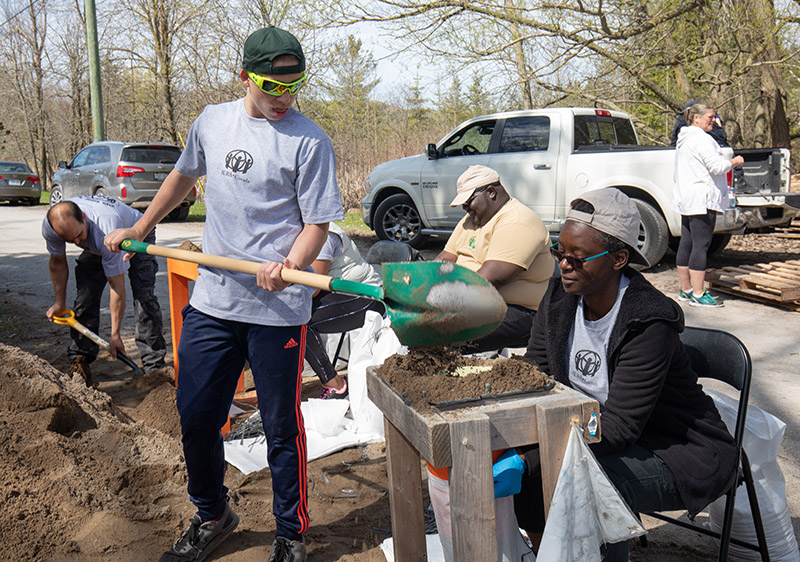 Anita and Liam work together to fill bags of sand.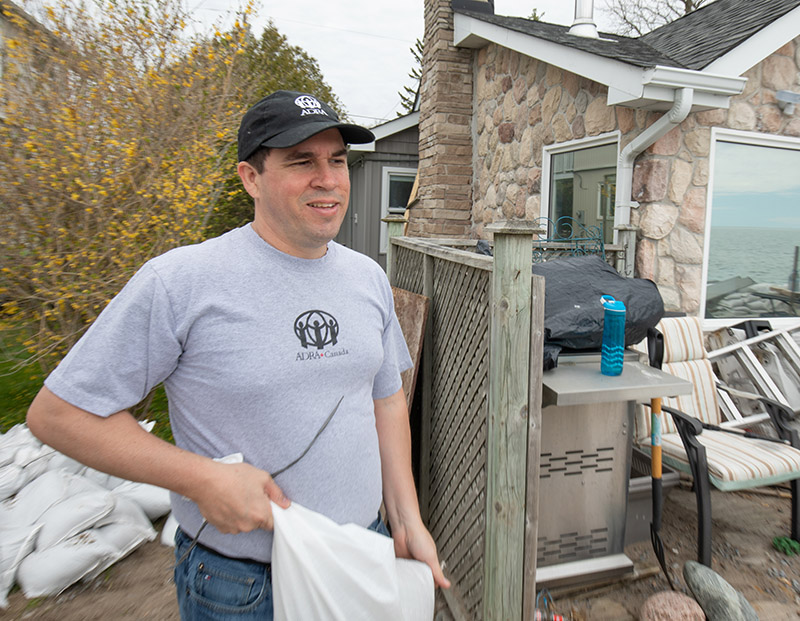 Steve helping others right here at home.
Shibvonne fills bags of sand on a Sabbath morning, feeling good for doing good on a Sabbath!
Sonja, happy to be out helping people!