JUBA, South Sudan–When I hear stories about what people have suffered in South Sudan, it's easy to lose heart. But then I think about people who inspire me—people like Grace Athiens.
I met 12-year old Grace when we visited Budi, the small county in the eastern part of South Sudan. That's where ADRA Canada, a Canadian Foodgrains Bank member, is distributing emergency food to people who have fled
fighting in other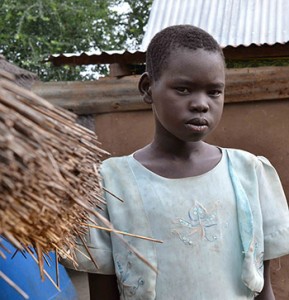 areas of the country.
"I am alone," she says. "I don't know where my mother and father are. I don't even know if they are alive."
Her eyes filled with tears when I asked her, through the help of a local pastor acting as a translator, to tell me the rest of her story.
When rebel soldiers fighting against the government of South Sudan came to her home in Bor in Jonglei state in the middle of the night, Grace had no time to pack before she fled. A tattered and faded green party dress is the only piece of clothing Grace owns, and it is already growing too small for her.
"People just scattered," she says. "I didn't know what was happening. I just woke up to screaming and gunfire."
Silent tears filled her eyes again. I asked the pastor acting as a translator to tell her that she didn't have to answer any more questions if she didn't want to.
She gently shook her head and told him it was okay for me to continue. Along with a group of around 100 people, she began walking and running through the forest toward the capital city of Juba.
"I didn't know where my parents were, but it was too dangerous to turn back," she said. "The rebels were shooting everyone."
For days, Grace walked with other people from Bor toward Juba. Along the way, she met up with a woman named Nyang Deng, a mother with six children of her own. She took Grace under her wing, eventually bringing her to safety.
Hearing Grace tell her story was difficult for me. But if she can have the courage to tell her story, it's the least I can do to listen—and share it with others.
Grace wants to be a doctor one day. She wants to serve people. She doesn't know if she will be able to do this. All she can do now is keep living each day at a time, doing small jobs to earn a little money.
True to her name, she approaches her situation with grace. When I asked her what her hope for the future is, she said: "Just to live in peace and get an education."
I believe in Grace—the girl who has lived through so much, and yet can still dream ahead without bitterness.
And I believe in the grace of God—to help Grace, and to help me live mindfully and compassionately in a world where so many people struggle to eat, live and carry on their daily lives.
Taken from an article written by Amanda Thorsteinsson, the Communications Officer at the Canadian Foodgrains Bank.