Nina is an 82-year-old grandmother from Ukraine. The night before ADRA met her, she boarded a train with her sister and her sister's husband and left her home country to escape the violence of the conflict.
This evacuation is not Nina's first time fleeing a conflict.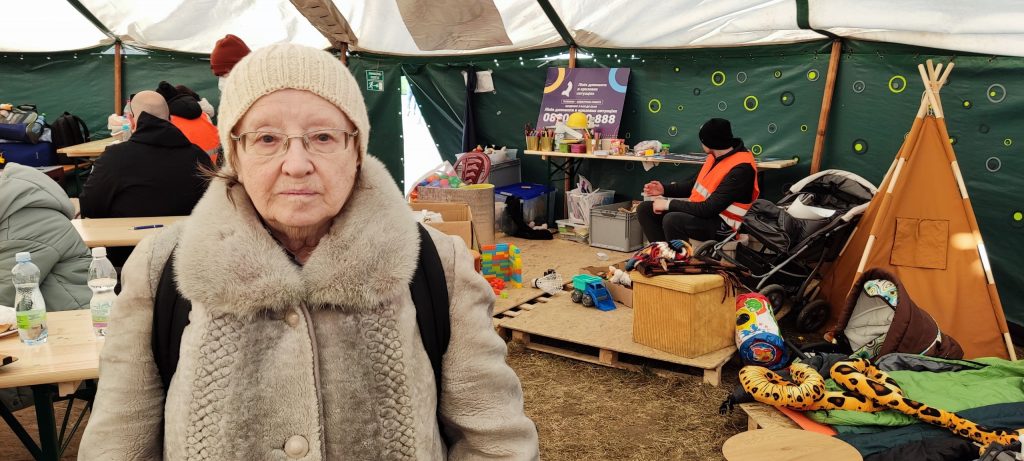 In 1941, Nina was only one year old when Nazis invaded her hometown. Her parents took her and fled to Siberia to keep her safe from the crisis at home.
This time, all Nina could bring with her is what she could carry: two small bags of documents, some clothes, and a flash drive with some photos. Left behind was her big, treasured photo album full of life memories that she couldn't carry with everything else.
Every night before she left, she could hear the sirens and she could hear the explosions from her beloved apartment. But like many elderly people or others with limited mobility, making her way down to the shelter space wasn't always possible.
"I am too old to go down from 9th floor all the time," she said. "I just stayed there and hoped for the best. But then I, with my sister and her husband, decided to leave."
As we spent more time with her, we learned that she is very connected with technology. She uses emails to message her friends and loves using her smartphone for photos. She snapped photos of her sister and her husband while they waited in ADRA's tent for their transport and tried to stay positive for the next steps of their journey.
Fortunately, Nina's son and 2 grandchildren will welcome her in Germany when they arrive, but she misses her home.
"I really don't know when this will finish," she said. "But if it does finish, I would like to go back to my apartment."
Because of people like you, ADRA is able to support amazing people like Nina on their journey to safety. Nina is not losing hope that one day she will see home again, and we are grateful that your hope is still strong as you are helping people when they need it most.