After enduring seven long years of conflict, the people of Yemen continue to face hunger and suffering. Many thousands have died due to the fighting; many more are in danger of becoming unseen casualties of war. Even before the conflict began, Yemen was one of the poorest nations in our world. Now it is has been declared the country with the worst human hunger crisis our world is facing today.
During times of war, hunger is often used as a weapon to bring people into submission. Shootings, bombing and crop burning are used to deter farmers from planting. Knowing that they will not likely be able to bring their crops to harvest, farmers are hesitant to spend much-needed funds on seeds. Even the humanitarian food that is sent into the country may be blocked by military groups, to prevent it from getting to the people. Sadly, these horrendous war tactics are being used in Yemen.  To make matters worse, the global pandemic has significantly decreased the assistance that many nations were providing to the people of rural Yemen.
With extreme shortages and inflated food prices, the poor go hungry. Over one-half of Yemen's population (16.2 million) regularly go without food.  Malnutrition weakens the immune system, and children are more likely to die from a simple, preventable illness. 
The United Nations World Food Programme estimates that 2.2 million children in Yemen are severely malnourished and that about 400,000 are currently in danger of dying if they are not treated soon.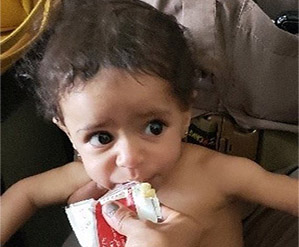 When baby Najla was born, she was already in a weakened state. Her father works hard on a local farm, but his salary is not enough to feed his family a healthy diet. As a result, her mother was malnourished during the pregnancy and Najla was born underweight. When Najla was brought into the ADRA clinic at nine months old, she was diagnosed with severe, acute malnutrition. Her weak immune system constantly subjected her to respiratory infections, diarrhea, and loss of appetite. The friendly ADRA staff put baby Najla into an emergency therapeutic nutritional feeding program. Through the partnership of supporters like you and the Canadian Foodgrains Bank, this life-saving program was offered free of charge to Najla's parents, who are struggling to make ends meet during this difficult time in their country.
Najla's mother has also been attending nutrition classes, and they are now receiving food support from ADRA. After 46 days of the intensive feeding program at the ADRA clinic, baby Najla has gained weight, is alert, and much healthier!
Please keep Yemen close in your heart and join our ADRA staff in prayer that the conflict in Yemen will soon end and that people can begin rebuilding their lives. Thank you for supporting the ministry of ADRA!