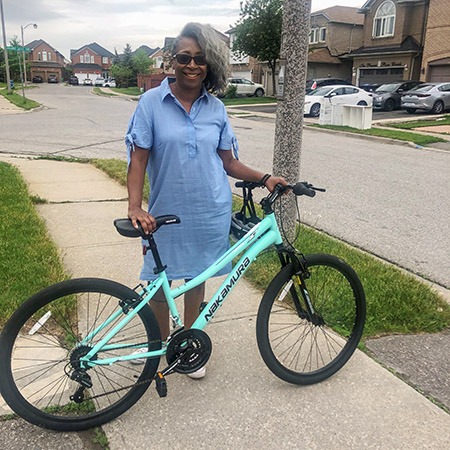 I'm Janice. At the age of 55, a little girl's story motivated me to mount a bike for the first time! It came in the form of a video that I think every one should watch. A Cancelled Wedding is a four minute video that will give you a window into what is happening to thousands of young girls every year in Africa.
The drive to help little girls who are forced into marriage by culture and custom sparked a passion. The thought of a mother not having the option of whether her little girl should be in school or be married to a strange man, truly provoked in me the need to help.
I have never had a reason to ride before. I remember in my twenties my brother tried to teach me. It just wasn't something that interested me. Learning to drive a car was my goal. To me, a bicycle was a very seasonal form of transportation. On snowy, -41C days, walking from Driftwood Avenue to Jane Street to catch a bus, having a bike didn't seem that practical!
When I got my first job, I saved and purchased my first car – no bicycle for me.
Years passed by, life happened, and there just never seemed to be a good reason for me to learn how to ride, until now.
In 2020, ADRA's proposal to help young girls in Niger and Sudan get an education, moved me into action. I was asked to arrange ADRA's participation in the 16th Annual Canada Africa Partnership (CAP) Ride. Yes, you read that right, "Ride". Every year, this event raises funds for grassroots communities in Africa. This year, 16 different teams like ADRA, are working together and riding together to raise funds for their specific project in Africa.
On behalf of ADRA Canada, I registered "Team Transformers" and I became the team captain. If I was going to be team captain, I decided I would need to lead by example by learning to ride – education has empowered me.
The Transformers intend to raise $6,000 to contribute to the education of young girls like Djama. If we can stop one child marriage through education, we can empower that girl, and another, and another, and another.