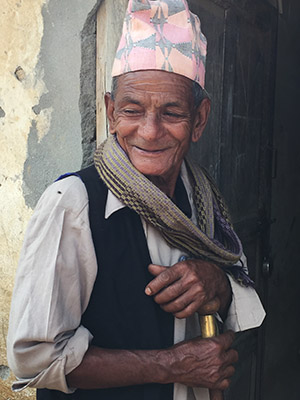 On April 25, 2015, a 7.8 magnitude earthquake shattered the country of Nepal. Almost 9,000 people were killed, and many more injured. Three and a half million people were rendered homeless. Chandra Bahadur Shrestha was one of those millions. He was 78 years old.
When the earthquake struck, Chandra's family was gathered in his home. Chandra had five sons and five daughters, and according him, grandchildren beyond number. As the earth heaved and the walls wavered, his entire family ran outside. Thankfully, no one was hurt. But Chandra had lost his home. He now lives in a temporary shelter, tenderly cared for by his sons.
Just shy of 80 years old, Chandra Bahadur Shrestha hiked for one and a half hours, leaning occasionally on his walking stick, to reach the ADRA Health Camp in Kumpur, Nepal. The sun was high in the sky, a dazzling 30 degrees Celcius. Kumpur village is nestled in the mountainous Dhading district, north of Kathmandu. Its roads pose a challenge to even the healthiest of pedestrians.
It was for his health that Chandra made the trek from his village to Kumpur. ADRA Canada together with ADRA Nepal and local partners conducted health camps throughout the district. The earthquake had severely disrupted health care services due to damage. To fill the gap, ADRA was working hard to meet health needs in rural villages through health camps.
Chandra ran the circuit of health care providers from the first triage nurse, to the doctor, to the lab, to the pharmacy. Each station was either situated outdoors or in village buildings that had been repurposed for the health camp. Throughout the circuit, Chandra was treated with kindness, attentiveness, and respect.
As part of the health camp, ADRA gave hygiene kits to young women, pregnant mothers, and the elderly. Chandra had his hopes set on a hygiene kit. The contents of each kit were not only expensive, but also difficult to obtain. Chandra would have to hike down the mountain to the nearest lowland town, only to face the upward return with his burden. At the very last station, Chandra was seated next to a paper and an inkpad. The volunteer worker took his thumb, rolled it in the ink, then stamped the paper next to Chandra's name. Another volunteer worker materialized at his side with the coveted hygiene kit. Chandra took it gratefully.
"Thank you," he beamed, his eyes crinkling into laugh lines. "I'm very thankful for this health camp. I don't need to go all the way to Kathmandu for health care!" Kathmandu was a four-hour trip one way, a journey he had previously done to reach health care.
Chandra clutched his precious hygiene kit and his bag of prescriptions as he headed home. It had been worth the walk.
Here a few shots of Chandra getting his examination at the ADRA Clinic.