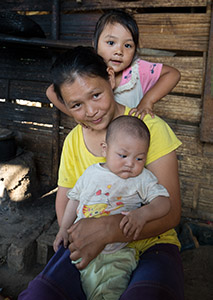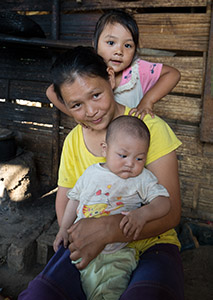 Myi once enjoyed a happy and peaceful life in a small village in picturesque region of Myanmar. About five years ago she and her family were forced to flee their home because of civil conflict. She now lives in a camp for internally displaced persons (IDPs). Myi, her husband, mother and five children share a one room bamboo house inside a compound where there are few opportunities for employment or growing food. Her husband recently had an accident that has left him disabled which is making their struggle even more difficult.
ADRA Canada is helping relieve some of the suffering in these IDP camps by setting up water and sanitation systems. ADRA is also helping some of the most vulnerable families, like Myi's, with a small monthly cash gift to help with their needs.
Mya is grateful for the help she is getting and shared her story, She said,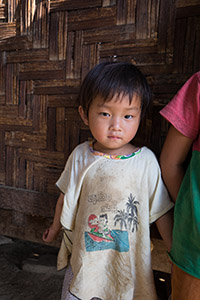 "Before the conflict came to our village we lived a nice peaceful life. We had a little farm where we were able to grow everything that we needed to live. Our little bamboo home had a nice view of the mountains. We had two cows and kept other animals as well.
When the conflict started in our village we had to flee. It was just too dangerous to stay any longer. With three small children we fled through the jungle and had to cross many streams and rivers to get to another village where we had some relatives that we could stay with. After some time they said we should go and find help here at this IDP camp, that they were helping people like us here.
My husband found some work outside the camp delivering firewood, but had an accident that broke some bones. Now he is suffering from a lot of back pain. We are getting help from the World food Program and ADRA. It is not very much each month but we are using the money to buy food and send our oldest son to the school here in the camp.
We are very grateful for the help that we are getting here but it is not a good life being IDPs. We would very much like to go back to our little farm by the mountains, but up until today it is not possible. As I look to the future it is my prayer that I will at least be able to provide a way for my children to get an education so that they can have a better life."