The unsettling thing about an emergency is its unexpected nature. For the village of Lytton, it began with months of dry weather conditions followed by a massive heatwave in the waning days of June that meteorologists called "unprecedented and historic." On June 29, at 49.4C (121F), Lytton tied with Death Valley, California, as the hottest place in North America. Already well-known as the location of Canada's highest temperature records, Lytton went on to set an all-time high of 49.6C (121.3F) on June 30. This was the world's highest temperature ever recorded north of 45°N and is hotter than the record highs for all of Europe and South America.
The picturesque little village, nestled where the mighty Fraser and Thompson Rivers meet, has a population of 250. That is 250 neighbours, friends, and familiar community residents.
It is also home to Lytton First Nation (LFN), located on 14,161 acres of land divided into just over fifty small reserves. Two of the fifty-six LFN reserves, Klahkamich and Klickkumchheen, are in the village of Lytton. Others are spread around the vicinity. For the Indigenous population and historically, Lytton is Kumsheen, meaning "where the Rivers Cross."
Another critical element in an emergency is that it requires immediate action. Reports from the ground indicate that residents had only minutes to flee after first realizing the danger. Lytton mayor Jan Polderman told CBC News that "It took, like, a whole 15 minutes from the first sign of smoke to, all of a sudden, there being fire everywhere."
Lytton residents fled in all directions, not knowing which way, if any, was safe. The 71 km/h winds played a leading role in the speed at which the fire spread, pushing it north into the Village of Lytton. In the coming days, bewildered and exhausted, evacuees relocated many times in search of safe housing.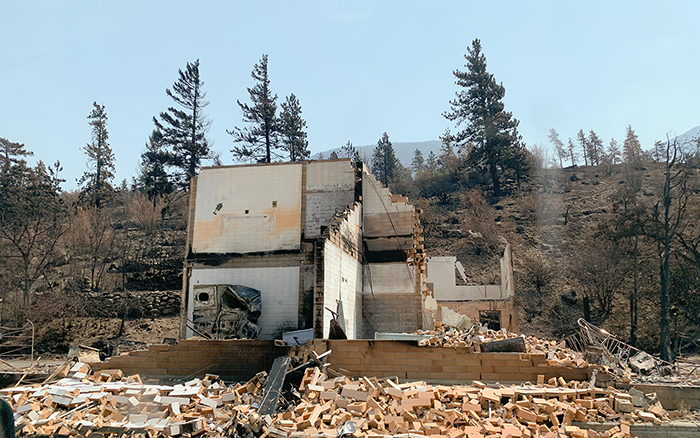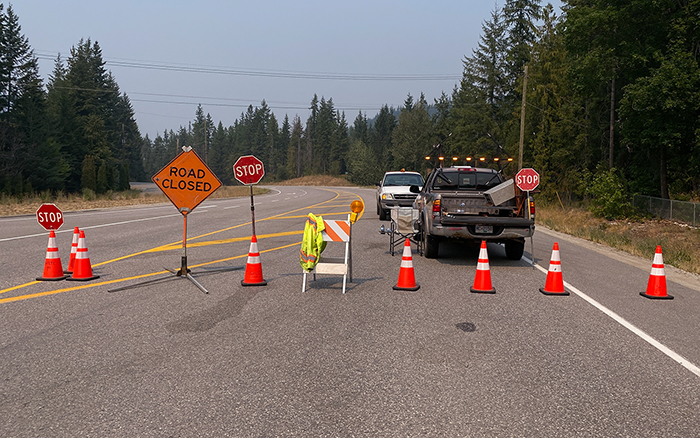 At 5:30 pm on Wednesday, June 30, Okumu (Charles) Lomudak, pastor of the Better Living Center/ Lillooet Seventh-Day Adventist Company and the Merritt and Ashcroft Seventh-Day Adventist churches, was on his way home from visiting neighbouring Chilliwack. The journey home to his family in Lillooet usually took him through Lytton. Except on this particular evening, Lytton was ablaze.
"As I approached the town, I could see cars lined up on the opposite side [of the road]. They were bumper to bumper; no one was moving. Many people were outside of their cars, in the street, looking back towards the town. I saw smoke but kept driving, not quite sure of what I was seeing, although people were looking at me as though I was crazy, going the opposite way."
The pastor drove up to the town until he met a roadblock. There he parked, exited the car, and took in the scene.
"I got out of the car and started walking towards the roadblock. There was so much smoke and flames. I stood there watching, talking with people who were looking on in disbelief. There was so much visible trauma; I was encouraging them, saying it's going to be okay, and praying in my heart that it would be.
I saw a man sitting on the side of the road, covered in ash. He held a bottle of water and was staring blankly ahead. I asked him if he was okay, but I could see that he was not okay."
By this time, Okumu Lomudak had been on the scene for nearly two hours. With cellular networks down and electricity cut off, he was unable to call his family, nor was the policeman with whom he spoke able to tell him when the situation would be resolved. Concerned that his family would be worried about his prolonged absence, he turned his vehicle around, taking a more circuitous route. What, under normal conditions, would have been a forty-five-minute drive from where he stood took an additional five hours.
Early the next day, calls began going out. The British Columbia Seventh-Day Adventist Conference, local church members, and leadership, in partnership with ADRA Canada, sprang into action. ADRA Ambassador Elaine Roque of Better Living Centre in Lillooet led the charge in coordinating the provision of hot meals and sandwiches for evacuees.
"When I heard what was happening on the news," Elaine explained, "I called the Lillooet Friendship Centre. I am an iHeal Healthy Lifestyle Coach, and the staff knows me well. So, when I asked what we could do to help, I was told they needed food for about 450 people. Thanks to the support from ADRA, donations of fresh greens from Green Dirt Farm, and our amazing team, we prepared a hot meal of rice, lentils, and salad for 450 and served 200 tired, hungry evacuees."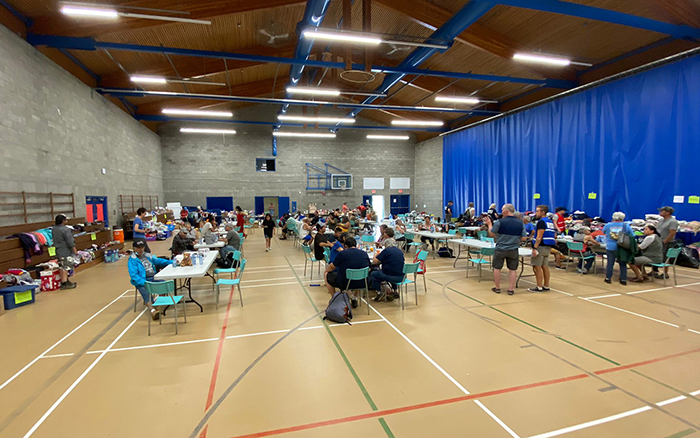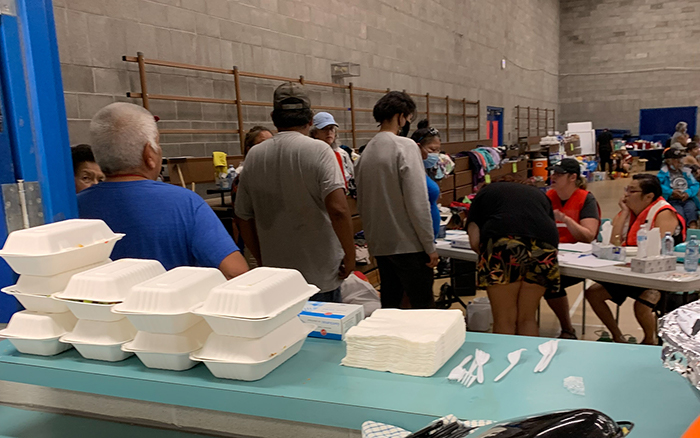 Later that day, as Pastor Lomudak walked through the makeshift evacuation centre at Lillooet Recreation Centre, he read confusion, anxiety, trauma, and fear on the faces of Lytton citizens. "People were in agony," he shared, "with the realization that they had lost everything. It was such a painful experience. It was heartbreaking to see. It reminded me of my own experience fleeing my burning village in Sudan."
Even staff at Fountainview Academy, a Christian boarding high school located 40 kilometers north of the Village of Lytton, were also forced to leave under the emergency evacuation order.
The Lytton Creek wildfire scorched about 90 percent of the Village of Lytton and was responsible for at least two deaths. It also destroyed properties in the Lytton First Nation community, along with thousands of hectares of land in the Fraser Canyon. In the days following the Lytton disaster, reports of more than 300 fires burning across the province and more than 80 out of control underscored that wildfire season had begun with an awful toll. Evacuees not only came from Lytton but all over the region. In total, approximately 1,800 people were forced to leave their homes with little notice and few belongings.
Sadly, for victims in emergencies, the road to recovery is long. Too often, what has taken a lifetime to build is washed away or destroyed in a moment. The loss of a comfortable home, familiar possessions, and precious mementos takes a profound, emotional toll. Those with a history of mental health issues are more vulnerable and at risk of plunging deeper into despair.
Yet even in the darkest hours, God's mercy shines through. Amid the devastation, one story emerged, of a woman living in Lytton who thought her house, like others, had burned to the ground. When the folks from Better Living Centre connected with her in Lillooet, they discovered that a helicopter with a bucket of water had inexplicably dumped it – right on her house. Hers was one of two houses left standing after the fire and was undamaged!
However, in partnership with His mercy, God also requires us to act on His behalf. In a supreme act of love and sacrifice, the British Columbia Conference of Seventh-day Adventists, along with Camp Hope Conference Centre staff, canceled the camp's summer schedule and event bookings and chose to open the camp to house and assist wildfire evacuees. "We have enough room here at Camp Hope to house 500 if needed, and thanks to our leadership, supported by the SDACC and ADRA, we're willing to cancel all bookings indefinitely if the demand is there", said Bill Gerber, Camp Hope Manager. "What is important is that we're not just the hands and feet of Christ, but His heart, His eyes, and ears as well."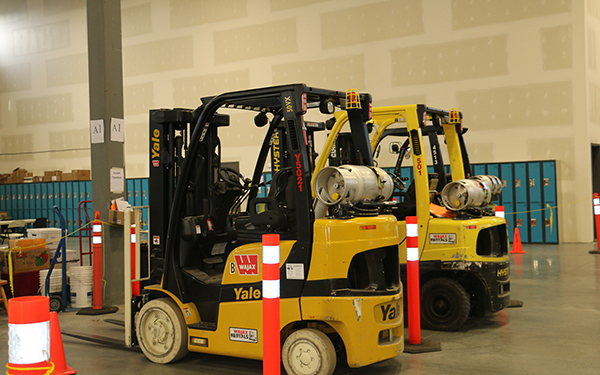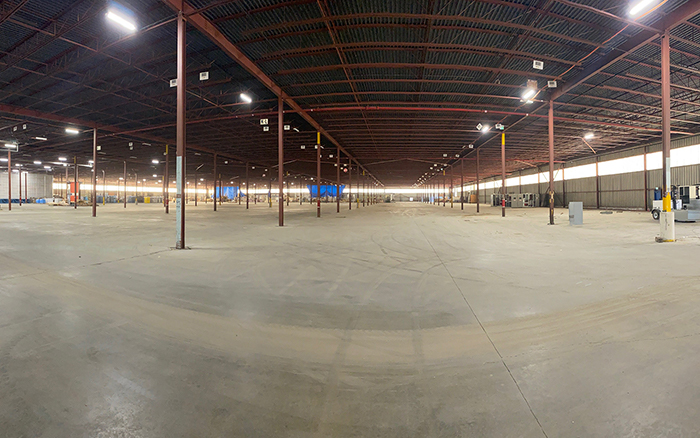 Following the great work done by our teams in response to the Fort McMurray fire in 2016 and the tornadoes that wreaked havoc in eastern Ontario in 2018, ADRA was approached by the British Columbia provincial government to lead in organizing the In-kind Donation Management for the Lytton Wildfires. Directed by Alain Normand, who has over 30 years of experience as an Emergency Management professional, ADRA, with the help of church and spontaneous (local) volunteers, will receive, organize, and distribute mountains of goods that are invariably donated following a disaster.
"ADRA has been mandated, through Emergency Management British Columbia, to set up and manage collection points, warehousing, and distribution of in-kind donations in the vicinity of Kamloops, British Columbia. We will be managing the volume of goods that are donated in an emergency and working with agencies like The Canadian Food Bank and other corporate donors to help meet the immense need… This is part of ADRA's specialization within the Canadian emergency response arena, and we are recognized for that commitment and expertise."
Steve Matthews, ADRA Canada's Executive Director, shares, "Here in Canada, ADRA is one of several faith-based organizations at work cooperatively to respond to emergencies and disasters. As a member of the Emergency Management NGO Consortium of Canada (EMNCC), ADRA collaborates with a number of NGOs such as Red Cross and Salvation Army to support and bring relief to vulnerable communities and people across Canada. We are blessed to be called to do this work, supporting local church efforts and larger responses. We are grateful for every volunteer, every member who is willing to help."
Christ's imperative in Matthew 25 is to feed the hungry, clothe the naked and invite the stranger in. Through our actions in ministering to those who have lost everything and are in urgent need, we reflect the love of Christ. By giving the best we have, we honour God, and we recognize that they are a part of our family. For those who have and those who are planning to support, we say thank you.
The needs are great, and God has allowed us to touch hearts for Him. You can support the response by donating online.